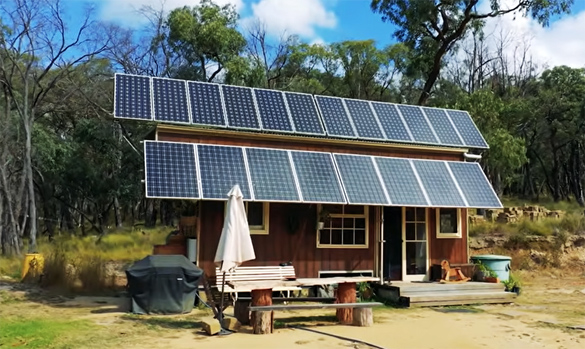 Regular readers of this blog know I'm fascinated by the many types and styles of tiny houses that dot the landscape nowadays.
There are countless factory-built 'cookie cutter' style tiny houses out there, but the ones I like best are the self-designed and self-built tiny homes that so many people are building these days.
The video I'm featuring today is a quick virtual tour of a tiny house in Australia that was built for about $10,000 AUD (which currently equates to less than $7,000 US). 
Of course that amount doesn't include the super-sized solar electricity system that powers both the home itself and the owners' nearby workshop, but then most tiny homes don't require that much power.
Anyway, I invite you to watch the video and check out this awesome house. My guess is you'll find it intriguing even if you aren't into the 'tiny house' concept.
Note: You can watch this video at full screen by clicking the little "square" icon in the lower-right corner of the video after it begins playing.