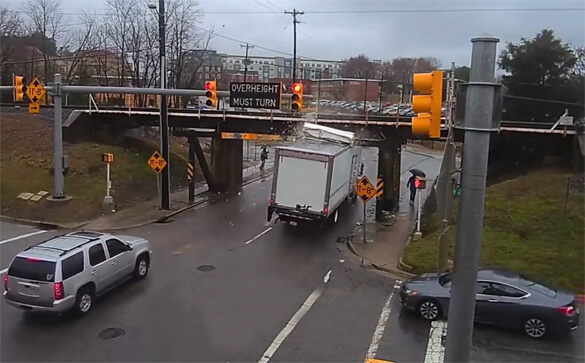 As part of North Carolina's famed "Research Triangle" and the home of Duke University, the city of Durham, North Carolina is considered by many to be among the most technologically advanced cities in America.
But guess what? It's also home to a bridge that could well hold the world record for having the most trucks crash into it. 
The Norfolk Southern–Gregson Street Overpass is so low that virtually every full-sized semi and big box truck that attempts to pass underneath it ends up getting it's top either badly scraped or completely peeled away.
Numerous crashes and driver complaints eventually led to the bridge being raised an additional 8 inches, and that did help somewhat. But unfortunately, large trucks still crash into it on a regular basis.
What amazes me is all the drivers who ignore the huge sign warning "over-height" trucks of the danger. It's mind-boggling to say the least.
If you'd like to see why this bridge is absolutely despised by insurance companies, just check out the short video below.
Note: You can watch this video at full screen by clicking on the little "square" icon in the lower-right corner of the video after it begins playing.