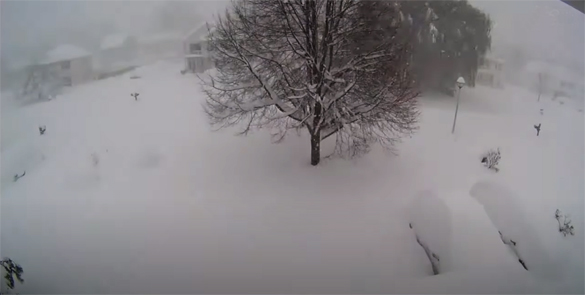 By now you've probably heard about the 6 feet of lake effect snow that bombarded parts of New York state over the weekend.
As you might expect, numerous security cameras and video doorbells captured the action as the snow piled up to record-breaking depths.
Personally, I can't even imagine trying to deal with snow that's deeper than I am tall, but millions of New Yorkers are having to do just that. 
I've seen plenty of photos of incredible snowfalls over the years, many of them even deeper than the one that hit New York over the weekend. But those were in the Sierras and other mountain regions.
If you've never seen multiple feet of snow actually coming down, here's your chance…
This short video was captured by a video doorbell somewhere in the Buffalo, New York area. Pay close attention to the cars and you'll watch them literally disappear from view beneath the snow – and a lot more snow fell after this video ended!
Note: You can watch this video at full screen by clicking the little "square" icon in the lower-right corner of the video after it begins playing.