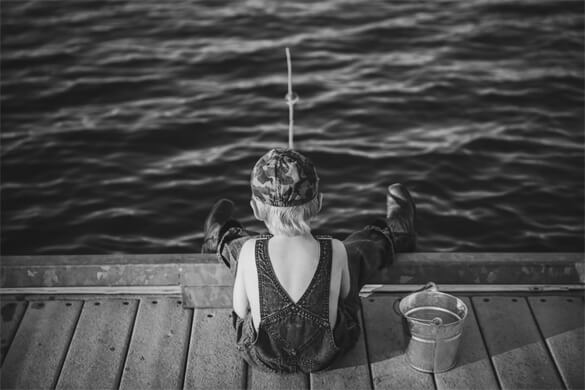 Perhaps more than any other genre of music, Country music is all about telling stories.
Some of those stories are very uplifting while others are downright depressing.
However, most of them seem to fall somewhere in between.
Every now and then a Country song will come along that really grabs at your heart and makes you think… 
Where does a certain song fall on the "uplifting" to "downright depressing" scale? Truth be told, it isn't always easy to tell.
Take the song "Almost Home" by Craig Morgan, for example…
This song starts out with a guy spotting a homeless old man curled up behind some garbage cans, possibly close to freezing to death in the below-zero cold.
Concerned, the guy shakes the sleeping man awake to make sure he is ok. Turns out he was, although perhaps not in the physical sense.
Before being aroused from his sleep the man had been dreaming about his family and some of his favorite childhood pastimes. Things that were long in the past – things that had been nothing more than cherished memories for many decades.
For the first time since his childhood the old man was finally on the verge of "going home", and he was so very close to getting there.
But then the stranger – out of the goodness of his heart – interrupted what was destined to be the most enjoyable dream the old man had ever dreamed.
Instead of being happy that the stranger had saved him from freezing to death, the old man was instead sad because that most wonderful dream was forced to an abrupt end right before he finally "made it home".
This song quickly became a huge hit for Craig Morgan, and in the years that followed he was often asked what the old man meant when he said "I was almost home".
Did it mean he was "almost home" in his dream where he could once again spend time with his mom and dad and, for just a few brief minutes, relive the joyous carefree life of a child?
Or did it mean he was "almost home" as in he was about to enter the gates of Heaven after freezing to death down here on Earth?
It's easy for someone who hasn't walked in the shoes and experienced the trials and troubles that someone else has endured to make judgments about these types of things. But the thing is, we often will never know what happened in the past that led a person to make the decisions they have made.
Mr. Morgan decided early on to never give a straight answer to the question about the old man's meaning of the phrase "I was almost home". He preferred to leave it up to the listeners to decide that answer for themselves.
I know which answer I would prefer, but I'll keep it to myself and let you come to your own conclusion.
And now, to finish up, the short video below features the song "Almost Home".
If you've never heard this song I hope you'll take a few moments to give it a listen. I have a feeling it'll both warm your heart and make you think.
Note: As always, you can watch the video at full screen. Just click the little "square" icon in the lower-right corner of the video after it begins playing.