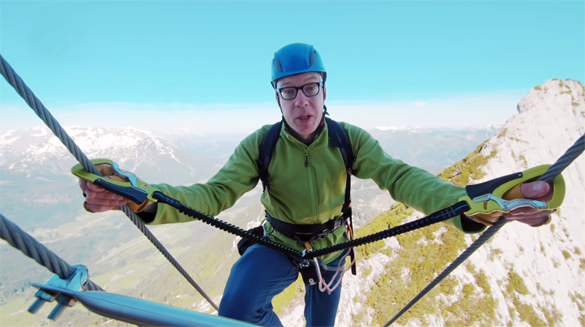 Are you the adventurous type?
If so, you might enjoy this leisurely climb to the pinnacle of an almost vertical, and very rocky mountain peak in the Austrian Alps.
Don't worry, you'll be securely attached to a steel cable during most of the climb, and of course you'll be wearing a helmet – just in case.
The above was said somewhat tongue-in-cheek, and you'll understand why after you finish watching the video. 
In case you're wondering, I wouldn't make this climb myself. I think I'd rather save my best effort for something a bit more challenging (yeah, right).
But who knows, this type of thing just might be right up your alley. To find out, watch the video below and see what you think…
Note: You can watch this video at full screen by clicking the little "square" icon in the lower-right corner of the video after it begins playing.
So what do you think? Ready to book the next flight out to Austria?
Enjoy!