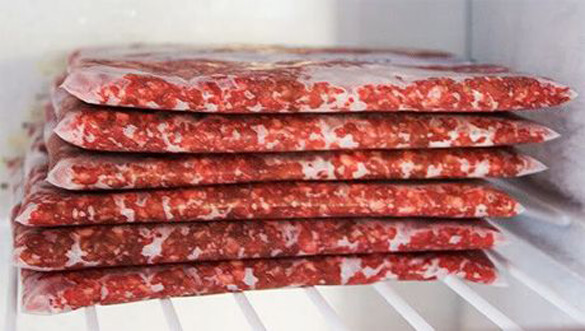 Does your family cook (and eat) a lot of ground beef, turkey or some other type of ground meat?
If so, I have a simple tip that can save you lots of time in the kitchen and storage space in your freezer…
The next time you bring a large package of ground meat home from the grocery store, don't just toss it into the freezer and forget about it until it's time to use it.
Instead, divide it up into one-meal-sized portions and place them inside zip-lock freezer bags!
But wait, don't place the bags of meat into the freezer just yet…
First, flatten them out as much as possible by using a rolling pin (or even a tall drinking glass) to "roll" the meat into a flat layer that's shaped somewhat like an extra-thick pizza crust.
After you have the meat rolled out to the desired thickness, simply zip up the bags and place them in the freezer.
This accomplishes three things at the same time:
1 – The flat bags of ground meat will stack up neatly in your freezer, saving you some valuable storage space.
2 – Since each bag contains just the right amount of meat for a single meal, you won't have to thaw out an entire large package and then try to think of ways to use the newly-thawed remainder before it goes bad.
3 – When it comes time to cook the meat, it'll thaw a lot faster than it would have if you had simply frozen the entire hulking package.
There you go. Now you have a nice, compact, and easy-to-use stack of ground meats ready and waiting for you to use whenever the need arises.
What do you think about this tip? Do you already do something similar? Or perhaps something even better?
If so, I'd love to hear about it!
To finish up, here's a fantastic short video featuring 25 recipes you can prepare with ground beef. Check it out!
Note: As always, you can watch the video at full screen by clicking the "square" icon in the lower-right corner of the video after it begins playing.