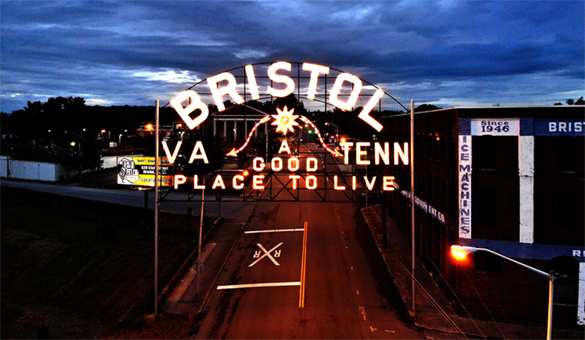 If someone mentions the term "Twin Cities", most people will immediately think of Minneapolis and St Paul, Minnesota.
While those are indeed the most famous twin cities in America, they certainly aren't the only ones in this vast country.
As luck would have it, I grew up and currently live just a short drive from a pair of the most beautiful and intriguing twin cities you're likely to find. 
The cities of Bristol, Virginia and Bristol, Tennessee are separate municipalities that lie in different states, but you'd never know it if you simply drove through Bristol and happened to miss the small signs welcoming you into the adjoining state.
From a visitor's perspective, the two Bristols are really just one city, split roughly down the middle by State Street.
The bustling down-town section of State Street is straight as an arrow with Virginia sitting on one side of the double yellow centerline and Tennessee sitting on the other side. At any point along State Street you can "travel" to the adjoining state simply by walking across the road.
There's a lot to see and do in the two Bristols and the surrounding region. If you ever find yourself traveling on I-81 or nearby I-26, stop in and check it out.
To finish up, here's a fantastic short video about these beautiful and intriguing twin cities.
Note: You can watch this video at full screen by clicking the little "square" icon in the lower-right corner of the video after it begins playing.