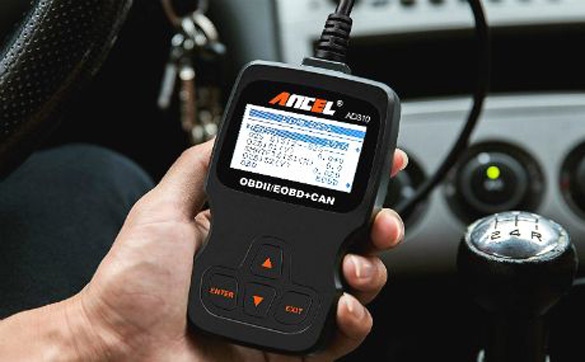 Note: The links in this post are affiliate links.
If you're and experienced driver you're probably familiar with a car's "Check Engine" light.
In fact, you might have been startled by having it come on while you were driving down a busy highway.
It's never fun when that dreaded little light comes on because it's such a mysterious warning. 
Did it come on because some minor issue needs to be resolved, or is the engine about blow up?
There's just no way of telling what the problem is by looking at the light, but luckily there's a little device that'll tell you exactly why your car's Check Engine light is on.
It's called an Automotive Fault Code Reader, and it's very easy to use.
Simply plug it into your car's OBD II port and then turn on the ignition. You'll then be able to view the applicable fault code along with a verbal description of the problem right on the screen!
Note: The OBD II port is typically located under the car's dashboard. Consult your car's owner's manual (or YouTube) to find the exact location of yours.
Of course if you don't know the first thing about auto repair you probably won't be able to fix the problem yourself, and that's totally understandable.
But here's the thing…
You don't need to be a DIY mechanic to make good use these devices. They are so awesome because they can often give you a ball-park idea of what's wrong with your car before you take it to a repair shop to have the problem fixed by someone else.
Armed with the reported fault code, you'll have a good idea about what to expect in terms of a diagnosis. Hopefully that knowledge will help you avoid getting ripped off if the mechanic you encounter happens to be a little on the shady side.
To be sure, the vast majority of auto repair technicians are honest and they'll accurately diagnose your car's engine problem and fix it without adding on any unneeded extra "repairs".
But just as with any other profession, there are definitely some bad apples out there who are always looking for their next sucker.
By arming yourself with the info gleaned from your very own Automotive Fault Code Reader you can protect yourself if you ever come into contact with one of those rare dishonest mechanics.
These awesome devices are quite affordable. In fact, the one I like best only costs about what you'd pay for a meal at a nice sit-down restaurant.
It's the AD310 from Ancel, and it's fantastic. Here's a short video that shows it in action:
Note: As always, you can watch the video at full screen by clicking the "square" icon in the lower right corner of the video after it begins playing.
Pretty handy, right? And I believe it's a great value considering how much you could lose by falling victim to a scamming auto technician!