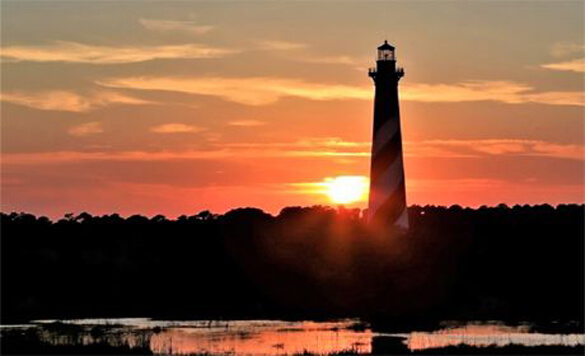 If you're trying to decide where to go on your next vacation, I have a recommendation for you…
Why not embark on a leisurely Carolina lighthouse road trip?
The coasts of North and South Carolina are dotted with over two dozen historic and scenic lighthouses, several of which are still in operation today.
If you're a lighthouse lover you can easily visit them all simply by driving up or down the Carolina coast. 
In addition to the lighthouses themselves, you'll also be able to experience the scenic beauty of some of the old south's most beloved historic towns and cities.
In case you're wondering, you won't have to wait till spring to enjoy this awesome lighthouse vacation.
The relatively mild coastal climate of the Carolinas make this trip just as enjoyable in the winter as it is during the heat of summer.
There really is no wrong way to enjoy a Carolina lighthouse road trip.
You can either just get in your car and start driving along the coast and visit every lighthouse you encounter or plan your "tour" with the aid of one of these handy books. (#ad)
Either way, you're sure to have a great time. Just be aware that it'll take several days to visit every lighthouse on both coasts so you'll need to plan your trip and visits accordingly.
To finish up, here's a fantastic short video that will give you a little preview of some of the lighthouses you can visit while driving the North Carolina coast. Check it out!
Note: As always, you can watch the video at full screen by clicking the "square" icon that will pop up in the lower-right corner of the video after it begins playing.