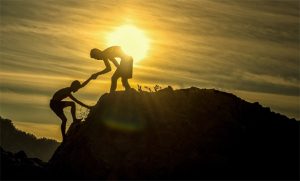 "Goodbyes are not forever. Goodbyes are not the end. They simply mean I'll miss you until we meet again."
-–Unknown
---
Do you remember the first time you heard that one of your best friends had passed away? No doubt it was a sad experience, to say the least.
It's hard enough losing someone you care about as an adult, but it's even harder when you're too young to understand why.
This is the story of my childhood friend, Charles… 
I still vividly remember my first day of kindergarten at Amelia High School, in Amelia, Virginia. Like most kindergartners, I was scared to death and apprehensive about stepping out into a brand new world.
But guess what? After a couple of hours spent playing with the other kids and all the awesome toys that lined the shelves in our classroom, I was hooked. I never dreaded going to school ever again.
Luckily, I got along with all the kids in my class, but as always happens I became close to one kid in particular.
His first name was Charles. To be honest, I never learned his last name. We were kids and we addressed one another by first name only, and the teacher addressed us all the same way.
As you might imagine, Charles and I became best friends over the course of that kindergarten year.
We played together. We snacked together. We ate lunch together…
We were basically inseparable during the days when we were at school.
Our favorite recess activities were Dodgeball and "King of the Hill". Even at that early age it was apparent that we were both athletically inclined so we usually ended up doing well at whatever game we were playing at the time.
My favorite was Dodgeball and Charles' was "King of the Hill". To the best of my recollection, no one ever defeated Charles at that game. He always was, and will always remain, the king.
And then came summer…
After what seemed like just a few short weeks, along came our first summer break. I didn't see Charles at all during that summer, but I knew I would see him again when school started back up in the fall.
And sure enough I did, but not on the first day of class.
Charles didn't show up until the third day, and when he came into the room he was on crutches. I had known other kids who had used crutches after breaking a leg, but when I asked Charles if he had broken his, he said "No, I'm just sick."
Charles spent our entire first grade year hobbling around on those wooden crutches, and before long it just became normal seeing him that way.
We still played together, snacked together and ate lunch together, but Charles was unable to play any of the physical games, including the "King of the Hill" game that he had so dominated the year before.
I'll never forget how he sat in the grass and watched the other kids running around the playground having fun, doing all the things he so badly wanted to do. But he never complained, just shouted advice and encouragement to the rest of us as we played our six year old hearts out.
Then came summer number two…
Just like the year before, Charles didn't show up on the first day of class. But he did make it on day two – in a wheelchair.
Our friendship picked up right where it had left off at the beginning of the summer break.
Once again, Charles was unable to play any of the physical games that are so popular with youngsters. And truth be told, I lost my interest in them since he couldn't play along. I never played another physical game during recess because they just weren't fun knowing that Charles couldn't participate.
All that year Charles and I would sit and play our own games while the other kids ran around the playground and played theirs. And truth be told, that quickly became the best part of our days.
Charles and I shared many interests (well, as many interests as a seven year old can have). We got along more like brothers than friends.
And finally, there came summer number three…
Once again, Charles didn't show up for the first day of class in the fall. Or the second. Or even during the first week.
When the next Monday rolled around and I learned that Charles was still a no-show, I asked the teacher if she knew why he hadn't made it to class yet.
Her answer shocked me in a way that has never been matched since. My friend Charles had passed away over the summer.
Talk about getting hit with a ton of bricks.
If I had been older I would have recognized the significance of his illness' progression – first crutches, then a wheelchair. But being just a kid it had never occurred to me that another kid could get so sick that he would die.
That was a lesson I'll never forget, and it was a hard one to take.
I never learned Charles' last name, even after becoming so close to him over that three year period. It never occurred to me that I needed to.
He was just Charles. My best friend. And we would be best friends forever.
And you know what? In a very real way, we will be.
After all these years, I still remember my amazing friend. The way he smiled, the way he laughed, the way he made me laugh – even the silly way he ate his cookies at snack time.
I never did find out which cruel illness took Charles at such a young age because he never shared that info, and being a kid myself I never thought to ask.
And all things considered, that's probably a good thing.
There will never be another Charles in this lifetime, but I firmly believe we'll see each other again some day.
He will forever be my best friend Charles.
King of the Hill. Undefeated, forever.
To finish up, here's a wonderful song that brings memories of Charles to mind every time I hear it…