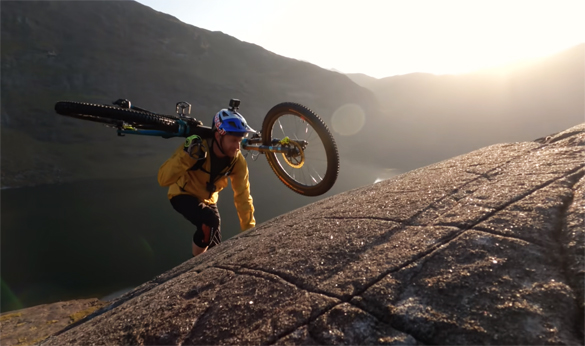 To call Danny MacAskill a master cyclist would be like calling the peak of Mount Everest a hilltop.
The exploits of this amazing daredevil are legendary world-wide thanks to the tremendous reach of YouTube, and I've featured several of Danny's heart-stopping videos here on My Daily Smile.
Today's video lets you virtually ride along with Danny as he descends the iconic Dubh Slabs on Scotland's Isle of Sky. 
The Slabs are a daunting climb under the best of conditions, and coming back down is incredibly treacherous since one wrong move could send you plummeting off the cliff to your certain demise.
I can't even imagine trying to go down this steep rock mountain on a bicycle, but then I'm not Danny MacAskill.
Even knowing how this would end up, I still caught myself holding my breath at times as Danny maneuvered his bike down the rocks and across the numerous narrow ledges of the massive cliff face.
If you dare, watch and "ride along" as Danny MacAskill takes you on what's likely to be the most thrilling bike ride of your life.
Note: You can watch this video at full screen by clicking the little "square" icon in the lower-right corner of the video after it begins playing.