Note: The links in this post are affiliate links.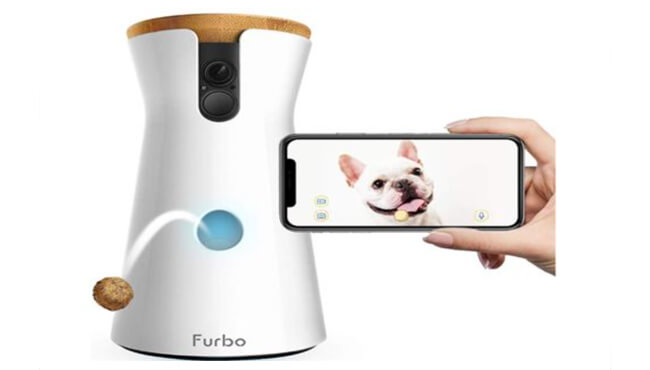 Do you dread leaving home because you worry about your dogs the entire time you're gone?
If so, you're gonna love the awesome Furbo Dog Camera/Treat Tosser!
The Furbo is basically a security camera that lets you see and hear your dogs simply by opening an app on your phone.
You can talk to your dogs in your own voice and actually hear their responses in real time.
And just to let them know you love them, you can have the Furbo toss them a treat or two (or twenty for that matter)!
The Furbo's camera captures excellent quality video and sends it directly to your smartphone. It can even record video that you can play back at any time, from anywhere.
And finally, it has one other handy feature that I really love…
If your dogs start barking the Furbo will send an alert to your phone so you can see what's going on in real time!
Bottom line: Do you really need a Furbo? Well, no. You probably don't. Your dogs will likely be just fine till you get back home.
But if you love your dogs and wish you could keep an eye on them, talk to them and even toss them a treat while you're away from home, you and your dogs will both love this thing!
Want to see the Furbo in action? Check out this short video!
Note: As always, you can watch the video at full screen by clicking the "square" icon that will pop up in the lower-right corner of the video after it begins playing.
Pretty cool, right?
Click here to check out the Furbo at Amazon (be sure to read some of the thousands of user reviews while you're there)!