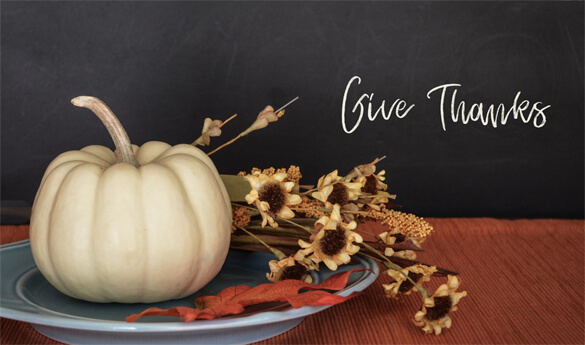 "Give thanks not just on Thanksgiving Day, but every day of your life. Appreciate and never take for granted all that you have."
     –Catherine Pulsifer
For most folks, Thanksgiving is a season of joy.
It's a day for spending time with loved ones, enjoying the most awesome meal of the year and then spending the rest of the day doing whatever it is that makes Thanksgiving special for each of us.
Truth be told, Thanksgiving isn't just a name we chose to assign to the fourth Thursday of every November.
Thanksgiving is the one day of the year that we have officially dedicated to giving thanks for the bounty and blessings that were bestowed upon us during the year.
The thing is, the gifts and treasures we receive don't all arrive on Thanksgiving day. We actually receive blessings every single day, not the least of which is the gift of being allowed to greet the dawn of yet another new day.
Since we receive blessings every day doesn't it make sense that we should give thanks every day as well? And yes, that goes for my friends and everyone else who happen to reside somewhere besides the United States.
I know we all have our problems. That's just the way it is for us humans. But that doesn't mean we shouldn't be thankful for the good things that come our way on a daily basis.
Just a little food for thought. I invite you to take it for what it's worth to you. Have a wonderful day – and be thankful that we have it…
To finish up, I hope you'll enjoy this beautiful rendition of "The Thanksgiving Song" by The Petersens…
Note: As always, you can watch this video at full screen by clicking the little "square" icon in to the lower-right corner of the video after it starts playing.