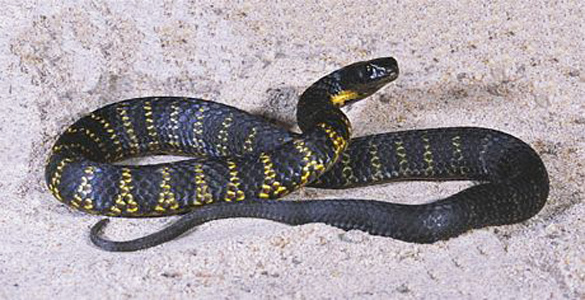 If you're ever visiting the Australian island of Tasmania and see a snake in the wild, you won't have to wonder about whether it's venomous or not, because it is.
According to the Tasmania Department of Natural Resources and Environment, the island only has three species of land snakes: 
1 – The Tiger Snake (notechis scutatus)
2 – The Lowland Copperhead (austrelaps superbus)
3 – The White-lipped Snake (Drysdalia coronoides)
And guess what? All three of them are venomous. There are no exceptions.
But the good news is if you're worried about getting bitten by one of Tasmania's snakes, you can rest (fairly) easy because none of them are very aggressive in nature.
In fact, according to the experts, about the only way to get bitten by a snake on Tasmania is to either step on it or otherwise come into physical contact with it.
This page offers several tips for avoiding coming into contact with Tasmania's snakes (and therefore avoid getting bitten).
Bottom line: Unlike most other places on planet earth, there are no non-venomous snakes on the island of Tasmania. Each and every one of them is packing a load of venom to inject into their prey.
The good news is, if you watch what you're doing you won't have to worry about getting bitten by one.
Here's a fantastic short 10 minute video that features the awesome beauty and wonders of Tasmania. Check it out!
Note: As always, you can watch the video at full screen by clicking the "square" icon in the lower-right corner of the video after it begins playing.