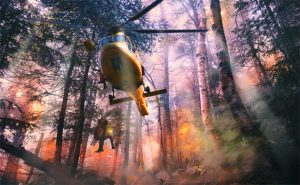 Every now and then we see news reports about ordinary people doing heroic things.
Here are just a few recent examples that come to mind:
In the heat of a fire-fight, a wounded soldier runs into the path of heavy enemy fire to rescue a wounded comrade.
A police officer rushes towards a flaming vehicle and pulls an unconscious accident victim to safety right before her car explodes into pieces.
A jogger jumps into a raging flooded river and rescues a child who is holding on to a bush for dear life.
When we hear about folks doing heroic things like these it's natural to assume they're fearless and have nerves of steel.
But truth be told, that's rarely the case.
The soldier that braved enemy fire to save his wounded comrade was likely scared half to death while he was running through that hail of bullets.
The police officer that ran towards the blazing vehicle was probably praying that she'd be able to make it home to her husband and kids at the end of her shift.
And no doubt that jogger was absolutely terrified when he jumped into the raging river.
Yet each of those folks did those extremely dangerous things anyway. Not because they weren't afraid, but because they knew they simply couldn't stand by and allow those people do die without trying to help.
Courage is often mistaken for an absence of fear, but in reality courage and fear go hand-in-hand.
Any person who enters into a dangerous situation without at least some level of fear either has serious cognitive issues or a death wish.
The thing is, the fear we feel in situations like this is a good thing because it helps us make the best decisions possible under the most trying of circumstances.
Simply put, true courage is being scared to death and still doing what must be done anyway.
Want to see true courage in action? Watch this short news report about how one brave police officer risked his own life to save another. Raw courage, caught on video.
Note: As always, you can watch the video at full screen by clicking the "square" icon in the lower-right corner of the video after it begins playing.