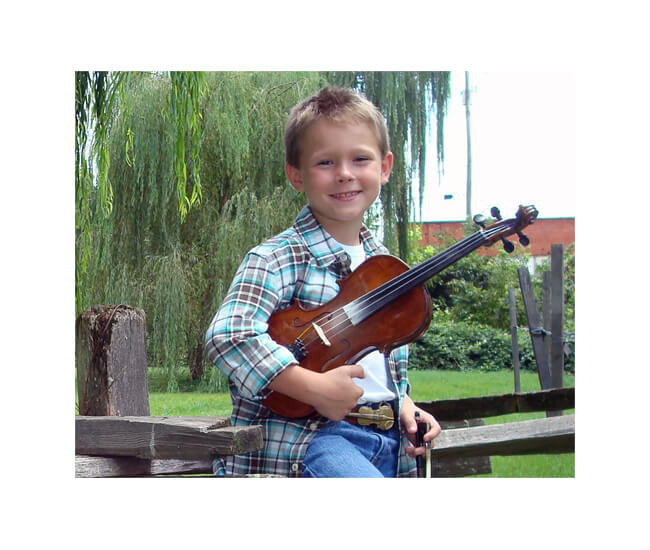 Like many from my local area, I had the pleasure of watching Carson Peters grow up singing and playing his trademark sizzling fiddle.
The first time I saw this young man perform was in nearby Bristol, Virginia on the stage of a local Bluegrass Music show called The Pickin' Porch.
He was all of 8 years old, but he played that fiddle like he was already a seasoned veteran – and in a very real way, he was.
Even at that young age, Carson was no newbie to the fiddle or the world of Bluegrass Music because he had started his musical journey at age 3.
Before long he was competing in – and winning – fiddle competitions all around the country.
Playing the Grand Ole Opry is a dream that few aspiring performers ever achieve, but Carson did it for the first time at the age of 10, fiddling and singing alongside his longtime hero, Ricky Skaggs.
Here's a short video of that performance:
At age 12 Carson put together his own Bluegrass band, and
Carson Peters & Iron Mountain
have been delighting audiences at various shows, concerts and Bluegrass festivals ever since.
Fast-forward to 2021…
Carson Peters is now a 17 year old high school senior, and he's still pickin' and singing his beloved Bluegrass music. But after being invited to audition for NBC's "The Voice", he decided to switch a few gears…
When he stepped on to the stage to perform during this year's "The Voice" blind auditions, Carson wasn't holding a fiddle. He had a guitar.
And if you were a long-time Carson Peters fan, you were probably surprised to learn that he selected the Don Williams Country Classic "Tulsa Time" as the tune to try to wow the audience and the coaches with.
And as you probably know by now, it worked. He put on a masterful performance that earned him a rare "4 Chair Turns".
If you happened to miss that performance, here's your chance to catch up…
There's no way to know how far Carson will go on his "The Voice" journey, but it's a pretty good bet he'll go far in the music world.