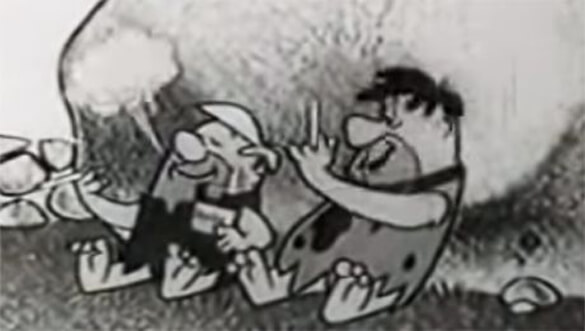 My, how times have changed.
Back in the Stone Age (circa when I was a little boy), it wasn't all that unusual to see kids buying and smoking cigarettes, often with the knowledge and consent of their parents.
And I'm not talking about teenagers, either. Actual kids were sometimes allowed to purchase and smoke cigarettes during that era.
All you needed was 50 cents to drop into a cigarette vending machine (yes, they really had cigarette vending machines). 
That was in the 1960s, and back then very little was commonly known about the health risks of smoking and using the various smokeless forms of tobacco products that were available at that time.
What's more, the dangers that were known weren't widely shared with the public at large.
But all of the above being said, I must admit that I was a little taken aback when I stumbled across an old black & white commercial for Winston cigarettes featuring the animated cast of "The Flintstones" cartoon show.
After I finished watching that video I did a little research and discovered that it really is an actual commercial that aired along with the very first Flintstones episodes.
It turns out that the intended audience for the Flintstones cartoon programs was actually adults, not children. But to the producers' surprise, the show quickly became a hit with kids.
To their credit, the producers dropped Winston and switched to a more kid-friendly sponsor as soon as they learned who their actual audience was, but by that time two seasons of the Flintstones has already been aired.
The short video below features the Winston commercial that was shown along with the first Flintstones episodes. Check it out if you'd like to witness that mind-blowing bit of early television nostalgia.
Disclaimer: I'm linking to this video in the interest of history and nostalgia, not as an enticement for anyone to start smoking since it obviously causes serious health issues.