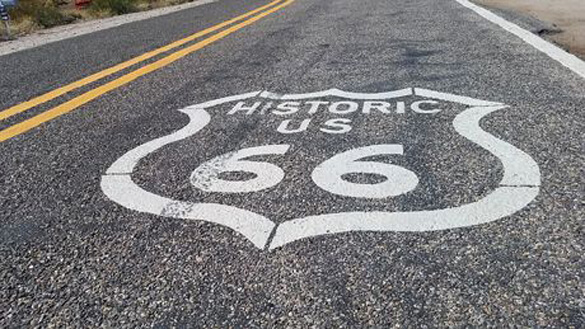 I'm sure you've noticed that America's highways are jammed to the max with travelers these days.
If you're planning to take a long road trip of your own you're likely to find that one of your biggest travel expenses will be the money you spend on gasoline.
Things like shopping around for the best deal on a hotel room and eating food from a grocery store instead of a restaurant can save you some big bucks while you're traveling.
Luckily, you can easily save even more by reducing the amount of gasoline you'll be using while you travel. 
Here are a few tips for getting the best gas mileage possible on your next long road trip:
1 – Change the oil in your car before you leave.
Is your car getting fairly close to needing an oil change?
If you have 700 miles to go before your next oil change comes due you might think you can easily wait till you get back home from a 500 mile (round trip) road trip to have it changed.
And guess what? You're right.
But changing your oil before you leave will increase your car's gas mileage and reduce wear and tear on its engine at the same time.
Why? Because as oil is pumped through your car's running engine it gets thinner and loses viscosity over time.
That means your engine has to work harder due to increased friction, and that causes the engine to consume more gasoline.
What's more, since the engine will be running non-stop for hours at a time, the increased friction and heat caused by the thinner oil could well shorten the life of the engine by a small amount.
Of course if you still have quite a ways to go before your next oil change is due, you really don't need to change it before heading off on your trip.
Just use your best judgement based upon the miles you have left before your next oil change.
2 – Wash and wax your car before you leave.
Believe it or not, a clean and freshly-waxed car gets better gas mileage than a dirty one.
As you might expect, the grit and grime adhering to a car's body increases the friction between the car and the air.
That increased friction forces the engine to work harder as it propels you car down the highway.
The gas savings you'll enjoy by travelling in a clean vehicle won't send your kid to a better college, but it just might enable you to enjoy a nicer meal or two!
3 – Don't feel like you have to drive the speed limit.
I know how it is to be driving down the interstate on a long trip and have several hundred (or more) miles of driving ahead of you.
The desire to get to your destination as quickly as possible can be quite strong, to say the least. But giving in to that desire can be costly!
According to US Government research, once your car reaches 50 MPH, every 5 miles per hour you drive over that speed will cost you an extra 19 cents per gallon of gas, on average.
That means if the current speed limit is 70MPH, you'll spend an extra 76 cents per gallon for the gas you use while you're driving the speed limit instead of 50 MPH.
Of course 50 MPH is a little slow for driving on the interstate, but somewhere in the middle would probably be a good trade-off. As always, the choice is yours.
And now, one final warning about speed: Try your very best not to exceed the speed limit.
Most speeding tickets are quite expensive, especially if you get one while driving through a work zone.
On top of that, a speeding ticket can also cause your insurance rates to go up.
And even worse, in some jurisdictions getting caught speeding can even land you in jail if you're caught exceeding the speed limit by a certain amount!
4 – Remove any unnecessary items from your vehicle before heading off on your trip.
According to the same government research I cited above, every 100 pounds of extra weight can reduce your car's mileage by 1%.
That doesn't sound like much, and it really isn't. But why pay extra for gas just for the luxury of hauling something you know you'll never need while you're gone?
5 – Use an app to ensure that you plan (and follow) the most efficient route.
If you're driving from one major city to another you can usually get there simply by glancing at a map and travelling the relevant interstate highways that make up the bulk of the route.
But truth be told, the interstate routes aren't always the shortest, fastest or most economical routes.
In addition to giving you the shortest and fastest route to your destination, tools like Google Maps and Apple Maps will also route you around traffic tie-ups (which waste gas by idling) and give you turn-by-turn directions!
6 – Use the "Gas Buddy" app to find the cheapest gas as you travel.
The prices charged for gasoline can vary quite a bit from town to town, and even from street to street.
A fantastic mobile app called Gas Buddy will literally tell you where to find the cheapest gas in virtually any city or town in the United States.
Gas buddy is very easy to use…
Simply enter the name of the city/town and state and the app will display a list of all the gas stations in the area along with each station's current gas price, with the lowest prices listed first.
7 – Take side trips of interest even if it means using extra gas!
Well, I guess I cheated a bit when I said this post includes 7 tips for saving gas while you're traveling. There are actually only 6 of them.
But truth be told, number 7 could well be the most important tip of all.
Yes, saving on gasoline is important. Very important, in fact.
But if the purpose of your trip is to have fun and enjoy yourself there's no better way to do that than taking an occasional side trip to visit an attraction or attend an event that catches your interest.
For example, I was driving through Texas back in the day when I saw a sign inviting folks to the Poteet Strawberry Festival.
Intrigued, I took the exit and made the short drive to Poteet.
They had live music and all kinds of fun things going on that day. And of course there were about a zillion different kinds of delicacies made from strawberries available for purchase.
Long story short, the few hours I spent in Poteet that day turned out to be the highlight of the entire trip.
If I had ignored that sign I would have saved the money I spent on the extra gas I used and on the things I enjoyed at the festival, but I would have missed out on a great time.
And that would have been a shame because having a great time was the entire point of that particular trip!
Bottom line: Your gasoline purchases will add up quickly once you hit the road for a long road trip. The tips mentioned above can help you reduce that expense.
Want even more gas-saving tips? Check out the awesome short video below that explains 10 driving hacks that can help you save even more money on gas!
Note: As always, you can watch the video at full screen by clicking the "square" icon in the lower-right corner of the video after it begins playing.