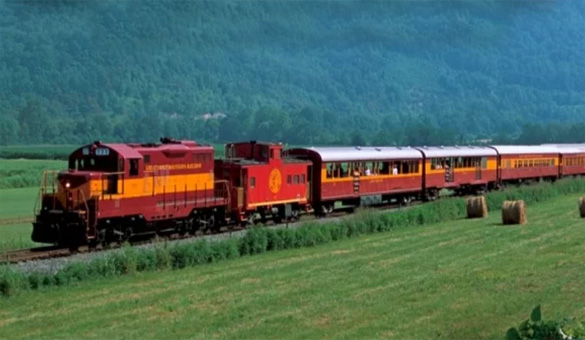 If you're fascinated by historic steam locomotives and enjoy beautiful mountain scenery you'd probably enjoy spending half a day chugging along on the Great Smoky Mountains Railroad.
Your adventure will begin with visits to the Train Museum and the historic depot in Bryson City, North Carolina.
Next, you'll board the train and head off on your journey through the Great Smoky Mountains… 
As you ride the rails you'll pass alongside rivers, through tunnels and across trestles, including the 1,000 foot long and 179 foot high trestle that spans the waters of Fontana Lake.
Thousands of people ride this train every year, and most all of them seem to end up really enjoying it.
The short video below depicts some of the sights you'll experience after you climb aboard. Watch, and enjoy…
Note: As always, you can watch this video at full screen by clicking the little "square" icon in the lower-right corner of the video after it begins playing.
I hope you enjoyed that short virtual excursion on the Great Smoky Mountains Railroad.