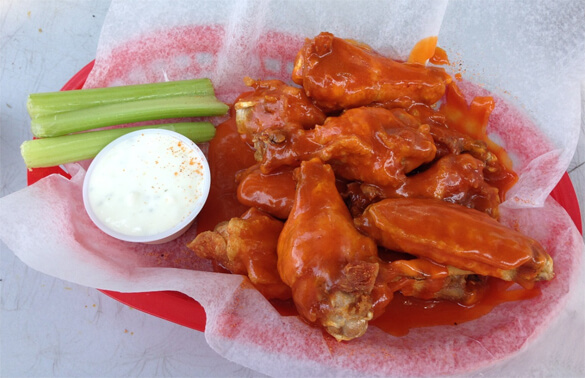 Question from Glenn:  I love "Buffalo Wings" and I eat a mess of them at least once a week.
The other day I was eating some wings and I got to wondering why they're called "Buffalo Wings" instead of "Chicken Wings" since that's what they really are.
Do you know the answer? I'm just curious. LOL
Rick's answer:  Glenn, I do happen to know why they're called Buffalo Wings, and it has nothing whatsoever to do with the animal by that name.
It's really quite simple: Buffalo Wings are called Buffalo Wings because they originated in Buffalo, New York. That's it, in a nutshell.
According to this Time magazine article and several other sources that I checked out, the first batch of Buffalo Wings were served at the Anchor Bar, a small family-owned establishment in Buffalo.
As you can probably guess, those spicy, tangy and tasty wings were an instant hit. And as they say, the rest is history!
When it came time to choose a name for the dish they decided to call them "Buffalo Wings" for the simple reason that they were "born" in Buffalo!
By the way, you're not alone in your love for Buffalo Wings. They happen to be a favorite of mine as well!
To finish up, check out this short video in which master chef Laura Vitale shows how to make some of the best Buffalo Wings around – right in your own kitchen!
Note: As always, you can watch the video at full screen by clicking the "square" icon that will pop up in the lower-right corner of the video after it begins playing.
Pretty awesome, right?
If you prefer following a printed recipe, you'll find it on right here.