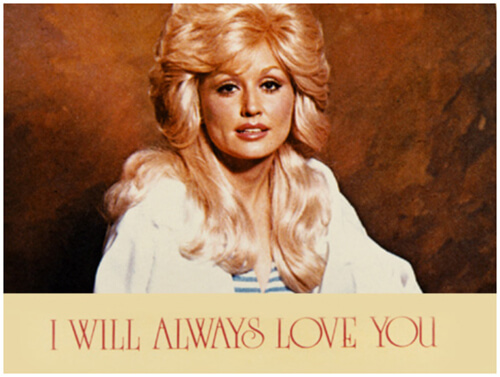 Chances are you're quite familiar with the hit song "I Will Always Love You".
What you might not know is that song went to #1 a total of three times, on two different Billboard charts.
This post details the history of that wonderful song and how it eventually made it to the very top of the charts on three different occasions. 
Dolly Parton wrote "I Will Always Love You" in 1973 as a tribute to her long-time mentor and duet partner Porter Wagoner while she was preparing to end their partnership and strike out on her own as a solo artist.
Dolly's version of the song quickly went to #1 on the Billboard "Hot Country Songs" chart after its release in 1974.
Then it went to #1 again in 1982 after being featured on the soundtrack for the movie "The Best Little Whorehouse in Texas".
But Dolly's two trips to the top of the charts with one of the biggest hits in the history of Country Music aren't the end of this story…
In 1992 Whitney Houston recorded "I Will Always Love You" for the movie soundtrack for "The Bodyguard", and as expected it raced to the top of Billboard's "Hot 100" chart where it remained for a then record-breaking 14 weeks.
As you can imagine, "I Will Always Love You" made Dolly Parton an incredibly wealthy woman.
Ironically, her primary reason for writing the song wasn't to get rich from it. She actually wrote it to let Porter know how much she cared for him as a mentor, a business partner and a friend.
Dolly says she doesn't really mind that most people now associate "I Will Always Love You" with Whitney Houston.
When asked about it in an interview, she said: "Well, a lot of people say that's Whitney's song, and I always say, 'That's fine, she can have the credit, I just want my cash.'"
And what a huge pile of cash it is!
I guess that just goes to show that sometimes things work out a lot better than originally planned.
To finish up, here are a couple of short videos featuring Dolly and Whitney singing their respective versions of "I Will Always Love You".
First, Dolly's version…
Notes: This video features Dolly singing "I Will Always Love You" to Porter Wagoner on the set of "The Porter Wagoner Show".
It was the first time she ever sang it in front of an audience, but it was really intended for an audience of one – Porter.
As always, you can watch this video at full screen by clicking the little "square" icon in the lower-right corner of the video after it begins playing.
And now, Whitney's version…