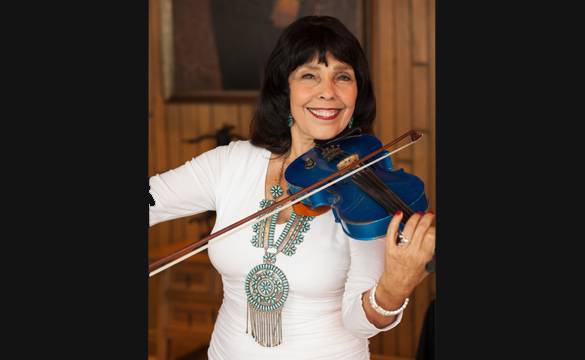 Jana Jae and her "magic fiddle" have been crafting great music in multiple genres for decades, most notably via her weekly performances on the timeless Country Music variety show "Hee Haw" as the first female member of Buck Owens' iconic band, the Buckaroos.
But Jana's love of music goes far beyond her frequent shows and performances.
One of her dearest loves is sharing the gift of music with others. 
To that end, Jana hosts the annual Jana Jae's Fiddle Camp and Music Festival in her hometown of Grove, Oklahoma every Fall.
This year's event will be held on Labor Day Weekend (September 2, 3 & 4).
This camp isn't just for fiddle players and experienced musicians. All skill levels are welcome to come and expand their knowledge and skillset on all of the following acoustic instruments, and more:
Guitar and other stringed instruments
Bones (the World Champion Bones player will be teaching Rhythm Bones)
This year's lineup of instructors includes roughly two dozen world-class musicians and performers, including the ultra-talented Jana Jae herself.
Whether you're an aspiring musician, a seasoned pro, or your skill level falls somewhere in-between, you're sure to enjoy and benefit from participating in this event.
Sound good? Click here for all the details about this year's edition of Jana Jae's Fiddle Camp and Music Festival.
To finish up, here's a fantastic short video featuring Jana and her magic blue fiddle putting their own personal stamp on the timeless fiddle tune "Orange Blossom Special".
Watch, and enjoy…
Note: You can watch this video at full screen by clicking the little "square" icon in the lower-right corner of the video after it begins playing.