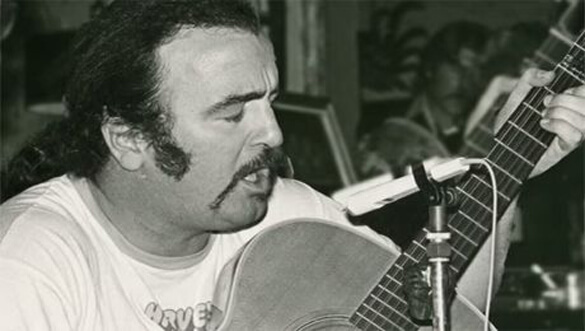 Chances are you've never heard of singer-songwriter Jim Sullivan.
In fact, it would be a surprise if you had because he disappeared from the scene before his fledgling music career really had a chance to take off.
By the way, when I say he "disappeared", I mean that literally.
By all accounts Mr. Sullivan was a gifted singer and musician who quickly became a favorite in the early 70's as he plied his musical trade in the night clubs of Malibu, California.
Even though he was more or less unknown nationwide, he was quite popular with the locals.
In fact, he developed personal friendships with some of the biggest TV and movie stars of the day, including Lee Marvin, Lee Majors and others.
But as is often the case, Sullivan never quite achieved star status himself, even after releasing two studio albums.
Like so many others before him, he thought about quitting the business and trying something new, but after consulting with his family he decided to head to Nashville and try his luck there before throwing in the towel for good.
On a sunny day in March 1975 he left Malibu (and his wife and kids) behind and headed east towards Nashville with little more than $120 in cash and his guitar stashed away in his VW Bug.
He made it as far as Santa Rosa, New Mexico before deciding to stop and get a motel room for the night.
The next day his car was found abandoned 26 miles away from Santa Rosa alongside a long stretch of desert highway.
The remainder of Sullivan's cash and his guitar were inside the vehicle, but Sullivan himself was nowhere to be found.
Stranger still, it was later determined that he had apparently never used the motel room back in Santa Rosa.
To this day Jim Sullivan's disappearance remains a mystery – a mystery that's shrouded in a cloak of conspiracy…
Remember the two albums I mentioned above that he had cut early in his career?
One of those albums was titled U.F.O., and in the title song's lyrics he sings about long highways, leaving his family behind and being abducted by aliens in the desert…
All of which sounds eerily close to what ended up happening some six years after the album was released.
We may never find out what really happened to Jim Sullivan, but one thing is clear: The mystery behind his disappearance sure makes for an interesting story!
To finish up, here's a short video with more intriguing info about the strange disappearance of Jim Sullivan. Check it out!
Note: As always, you can watch the video at full screen by clicking the "square" icon in the lower-right corner of the video after it begins playing.
Sources:
NPR
,
Wikipedia
and
The New York Times