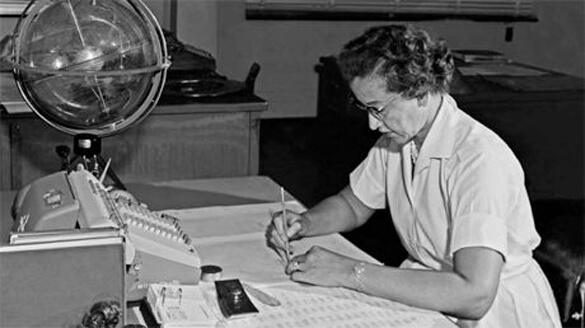 Some of the most crucial (and most difficult) computations in the field of space travel are used to determine the trajectories and orbits of rockets and various types of space vehicles.
One simple mistake can cause a spacecraft to miss a planned rendezvous with another vehicle or even miss a once-in-a-lifetime opportunity to visit and explore a comet or some other heavenly body that's hurtling through space.
And in some situations a mistake in these calculations can even cost the crew members their lives.
Back when space pioneers like Alan Shepard and John Glenn were gearing up for their historic flights, they depended on an amazing lady named Katherine Johnson to calculate the trajectories and orbits of their crafts – and she made those calculations by hand!
In those days even the most powerful computers were anemic by today's standards. Even worse, bugs, glitches and outages were common.
That's why the early space pioneers wanted those critical calculations to be performed by hand, by the most brilliant mathematical minds of the day.
And one of the most brilliant of them all was Katherine Johnson.
Mrs. Johnson was born on August 26, 1918 in the small town of White Sulphur Springs, West Virginia.
It became apparent at a very young age that she was wonderfully gifted in mathematics, but the county she lived in didn't offer public schooling for African-American students past the eighth grade at that time.
Her parents made arrangements for Katherine and her siblings to complete high school in Institute, West Virginia in a schoolhouse that was actually located on the campus of a local historically-black college.
Katherine excelled in her studies and earned her high school diploma at the young age of 14. From there she went on to study at West Virginia State College.
Again she excelled, and at the age of 18 she graduated summa cum laude with degrees in both Mathematics and French.
After graduation she spent a year teaching at an African American school in Marion, Virginia. But as much as she enjoyed teaching, Katherine had much higher ambitions.
She soon applied for a research job at Langley Memorial Aeronautical Laboratory (which would eventually become NASA) in Hampton, Virginia.
She got the job and began her long career with NASA by working with a group of other women whose sole job was performing Math calculations for America's young and growing space program.
This group of amazing ladies were often referred to as "the computers who wore skirts", and they embraced that term with great affection.
Katherine quickly became known as the go-to person when the organization needed someone to perform a calculation that was so critical that it absolutely had to be 100% correct.
Her work was so trusted that Astronaut John Glenn wouldn't sign off on the calculations for a particular trajectory or orbit until after Katherine had run the numbers herself, by hand.
Although she started as one of the early pioneers of space travel, Katherine ended up working for NASA for several decades, during which she worked on the Space Shuttle project as well as the now-famous Mars missions.
To honor her long-time service and her legendary body of work for the American Space Program, in 2015 she was awarded the Presidential Medal of Freedom.
In 2019 she was also awarded the Congressional Gold Medal.
To be sure, a lot of amazing and talented people helped shape the future of America's space program over the decades, but no one person was more important to its success than Katherine Johnson.
Sadly, Mrs. Johnson passed away on February 24, 2020.
She was a truly amazing human being – "the computer who wore a skirt".
To finish up, here's a very short, but wonderful video about Mrs. Johnson's legacy of work in the American Space Program. Check it out.
Note: As always, you can watch the video at full screen by clicking the "square" icon that will pop up in the lower-right corner of the video after it begins playing.