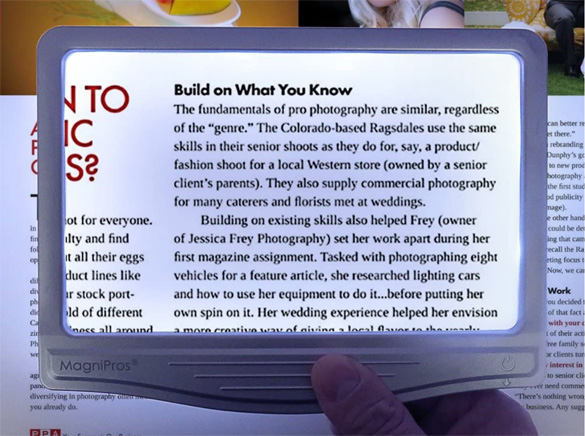 Note: The links in this post are affiliate links.
Now that I'm getting older I often struggle with trying to read small print.
As a tech blogger I'm constantly receiving new gadgets to test and review, and with very few exceptions they typically come with instructions that are printed in a font that's so small I simply can't read them.
Even worse is trying to read the tiny print on the backs of medicine bottles. It's virtually impossible!
Well, I recently discovered the perfect solution to this problem…
One of my friends sent me the link to an awesome lighted magnifying glass from the folks at MagniPros that's absolutely perfect for reading everything from the backs of medicine bottles to small-print books and magazines.
This particular magnifying glass has several advantages over the ones you've probably used in the past:
1 – It has a rectangular shape that makes it a lot easier to read books and magazines without having to constantly move it across (and up-and-down) the page.
2 – The viewing area is quite large. That also allows you to read more of the printed text without having to move the magnifier.
3 – It's equipped with a dozen powerful anti-glare LED lights that you can dim or brighten to your desired brightness level to find the reading conditions that are best for you and your eyes.
4 – You'll never have to replace any batteries because this one is rechargeable.
I've used a lot of magnifying glasses in recent years, and as you can imagine some performed better than others. I can honestly say this is the best one I have ever seen.
Bottom line: If you have trouble reading small print like me I believe this awesome lighted magnifying glass from MagniPros will be of great help to you.
To finish up, here's a fantastic short video that shows the MagniPros 3X Lighted Magnifying Glass in action. Check it out!
Note: As always, you can watch the video at full screen by clicking the "square" icon that will pop up in the lower-right corner of the video after it begins playing.