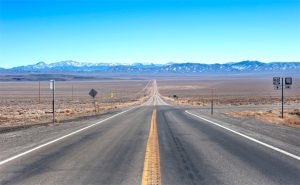 Do you enjoy taking long road trips just to check out the scenery and visit places you've never been to before?
Or perhaps you're the adventurous type and you just love taking off for parts unknown?
If so, you're certainly not alone. Every year millions of Americans hit the road and travel long distances, both for work and pleasure. 
And believe it or not, a lot of folks have even made driving their entire lifestyle by ditching their stationary residences and becoming part of the growing van life movement.
If you frequently take extended road trips for work or pleasure, chances are you're always looking for a new route to explore.
The video below will take you on a virtual drive along Highway 50 in Nevada, a long and somewhat isolated stretch of highway that's become known as "The Loneliest Road in America".
Personally, I think I'd rather stick to more traditional routes, but after watching this video I must admit that there is plenty of beautiful countryside and many awesome experiences waiting for anyone who's eager and willing to travel Highway 50.
Do you think you would you enjoy this trip? Watch the video and decide for yourself.
Note: You can watch this video at full screen by clicking the little "square" icon in the lower-right corner of the video after it begins playing.