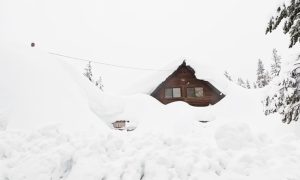 If you enjoy watching it snow and getting out in it after it stops falling, you're going to love this video.
A couple of weeks ago it began snowing in the tiny community of Soda Springs, California. It snowed and snowed, then snowed some more.
To the folks who live there, it seemed like the snow would never stop falling. 
Well, it eventually did, but not until numerous houses were literally covered with snow, trapping some folks inside their homes for days at a time.
The snow was so deep in places that the only visible parts of some houses were their roofs – and that was the two-story structures.
Of course deep snowfalls are the norm for folks living in the Sierra Nevada mountains region, but this was a snowfall for the ages.
Wanna see for yourself? Watch this short video…
Note: You can watch this video at full screen by clicking the little "square" icon in the lower-right corner of the video after it begins playing.