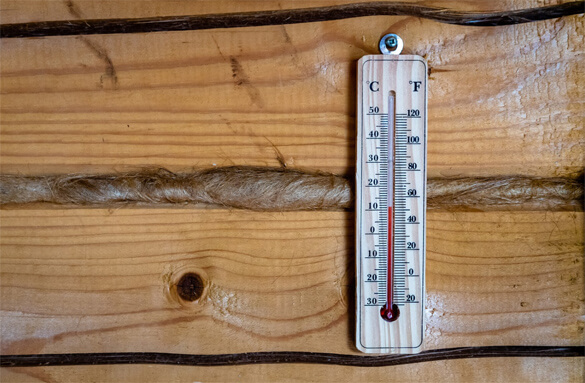 Question from Tammy: I was visiting my mom the other evening and we decided to sit on her back porch for a while.
We both sat down in metal chairs. Her chair had a cushion on it, but mine didn't.
My chair was so cold that I couldn't stand it so I got up and switched to a wooden chair.
I noticed right away that the wooden chair was a lot warmer than the metal one even though both chairs were sitting side by side in the shade.
That got me curious about why the metal chair was so much cooler than the wooden one. Can you explain it? 
Rick's answer:  That's a great question, Tammy. I'm glad you asked it.
I used to wonder about this as well so I did some research to find out why metal feels cooler than other materials.
Truth be told, the metal chair you sat in wasn't really cooler than the wooden one at all. It just felt like it was.
In fact, assuming both chairs were getting the same amount of shade they would have been almost exactly the same temperature.
So why did the metal chair feel cooler? Well, the answer lies in physics…
It turns out that metal is a more efficient conductor of heat than most other common materials, including wood.
While you were sitting in those chairs your body wasn't really feeling the temperature of the chairs. It was actually feeling the transfer of your body heat to the metal and wooden materials the chairs were made of.
Since metal conducts heat a lot easier than wood, the metal chair felt cooler to your touch than the wooden chair because it absorbed the heat from your body at a much faster rate, even though both chairs were actually the same temperature.
You can easily verify that there's no temperature difference between the two chairs yourself…
The next time you visit your mom, place a thermometer on both chairs and compare their temps. If both chairs are getting the same amount of shade you'll find that the temperatures of the chairs will be virtually the same.
To finish up, here's a somewhat humorous short video that demonstrates what we've been talking about by comparing the temperatures of an aluminum hard drive and a regular hardcover book. Check it out!
Note: As always, you can watch this video at full screen by clicking the little "square" icon in the lower-right corner of the video after it begins playing.