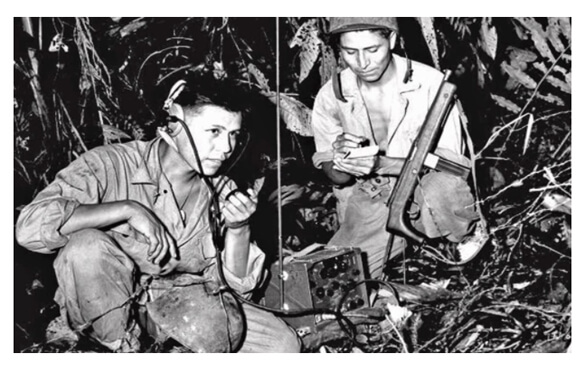 Japan's surprise attack on Pearl Harbor on December 7, 1941 thrust the United States into the middle of World War II, and right from the start the American forces faced a major problem.
Every code the American cryptographers devised was quickly broken the Japanese, resulting in numerous casualties that could have been avoided had the Americans had a secure method for communicating on the battlefield.
After a string of failed encryption methods were tried and discarded, the Americans finally found one that the Japanese were never able to break. 
Unlike the previous codes, the one that finally succeeded in keeping the American forces' communications secret wasn't based on strange sequences of letters and numbers.
This code, the one that would never be broken, was based upon an actual spoken language and consisted of real words that speakers of that language used on a daily basis.
That "code" language was the native language of the Navajo Indians of the American southwest.
Why was this code that was based upon an actual spoken language so successful while all the others before it that were much more complex had failed? There were two primary reasons:
1 – With very few exceptions, the Navajo language was only spoken and understood by the Navajo people who resided in the relatively small area they inhabited.
2 – The Navajo language didn't have any written words, or even an alphabet for an enemy force to intercept and study.
Over 400 brave Navajo men joined the U.S. Marine Corps and were trained in "Code Talking", and most of them ended up serving with distinction on the battlefields of the Pacific and elsewhere.
Some of those "Code Talkers" were little more than boys, with a few as young as 15.
The services provided by the Code Talkers were so important to the war effort that they were always among the first to arrive on a battlefield, and among the last to leave.
After the war was over the very existence of the Code Talkers program remained classified for many years, depriving those courageous warriors of the recognition and honors they so richly deserved.
That has since changed, but many of the Code Talkers had already passed on by the time the program was finally declassified.
There is little doubt that the allies would have eventually won World War II even without the assistance of the Code Talkers, but there's no way of knowing how much longer it would have taken or how many more lives would have been lost.
If you'd like to learn more about the Code Talkers, here's a short video that might interest you…
Note: You can watch this video at full screen by clicking the little "square" icon in the lower-right corner of the video after it begins playing.