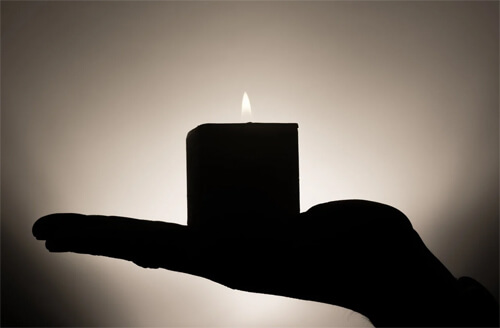 "Learn to light a candle in the darkest moments of someone's life. Be the light that helps others see; it is what gives life its deepest significance."
 -–Roy T. Bennett
As you probably know, each and every one of us must occasionally go through a dark valley as we make our own individual journeys through life.
Can you remember a time when someone either said something or did something that brightened one of your darkest days?
Yeah, me too. And it meant the world to me at the time.
It's human nature to want to avoid someone who is obviously having a bad day. After all, who wants to be weighted down with someone else's problems?
I know it can be a struggle trying to interact with someone who's in a grouchy mood or is feeling depressed, but those are usually the times when our kindness and concern are needed the most.
We often won't know what circumstance has caused someone to feel down, angry or worried.
It could be something as insignificant as a slight by a co-worker or a family member.
Or perhaps they just received unwelcome news about something that doesn't affect you at all, but affects them deeply, such as a really bad doctor's report.
After spending a lifetime observing the people around me, I can say the following…
In most cases:
Laughter and encouragement are wonderfully powerful elixirs.
Small gestures of kindness can pay huge dividends when someone is feeling down, upset or worried about something that's weighing heavily on their mind.
You don't have to solve someone else's problem in order to make them feel some better about the situation. Just a warm smile and a word of encouragement can work wonders.
Times of darkness come over all of us at times. Sharing the light of of your smile and letting the person know you care can make even the darkest day at least a little brighter.
Yes, there are people who will choose to ignore your kindness and remain in the darkness.
But there are so many others who will take a step towards the light – the "candle" of your kindness, caring and concern – and feel a little better just because you were kind and compassionate.
When given the opportunity, do whatever you can to be someone else's light. What they choose to do with it will be entirely up to them, but you'll know you tried your best to help regardless. And that will brighten your own day at the very least.
To finish up, check out this short, but very inspirational video…
Note: You can watch this video at full screen by clicking the little "square" icon in the lower-right corner of the video after it begins playing.