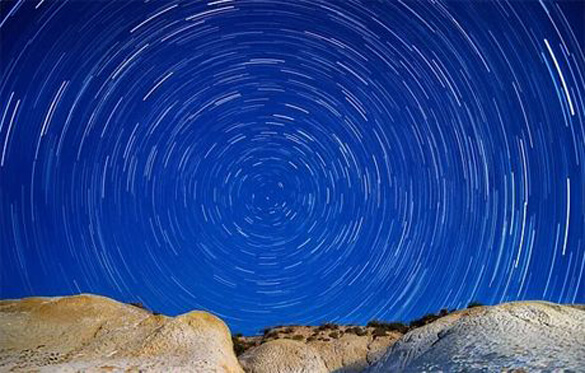 Most everyone is familiar with the North Star.
After all, it's been guiding mariners across the seas and travelers across the continents for ages.
And if you were paying attention in science class you probably know the official name of the North Star is Polaris.
But here's something you probably don't know: Polaris isn't just the one star that we see when we look up at the North Star… 
It's actually (at least) three stars that make up the Polaris star system.
The reason I say "at least" is because there could actually be more stars in the Polaris system that we have yet to detect.
First, there is Polaris A, a supergiant star that's a whopping six times as massive and 2500 times brighter than our own sun.
Next we have Polaris Ab, a dwarf star that's just a relatively close 2 billion miles away from Polaris A. (2 billion miles a mere stone's throw in the context of the mind-blowing vastness of the universe.)
Polaris A and Polaris Ab are so close together that it's literally impossible to see Polaris Ab from here on planet Earth due to the overwhelming brightness of Polaris A.
Although astronomers have known that Polaris Ab exists for years, it took the unique capabilities of the amazing Hubble Space Telescope to allow us to finally get a look at it.
And finally, there is Polaris B, another dwarf star in the Polaris star system that's a mind-boggling 240 billion miles away from Polaris A.
When you consider that's the distance between two of the stars in just a single star system, it really puts the incomprehensible size of the universe into perspective.
And now, back to what we see when we look at the North Star…
Due to its overwhelming brightness, Polaris A generates the vast majority of the light we see when we look at the Polaris star system (aka the North Star).
However, Polaris Ab and Polaris B do each contribute a small portion of that light.
Bottom line: The 'North Star' that we see when we peer up into the heavens is not just one star – it's actually three (or perhaps even more) of them.
To finish up, here's a fantastic short video that explains how to navigate using the stars. Check it out.
Note: As always, you can watch the video at full screen by clicking the "square" icon that will pop up in the lower-right corner of the video after it begins playing.