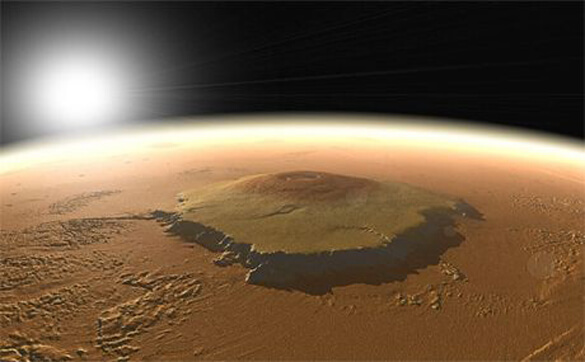 We Earthlings are quite familiar with volcanoes since their frequent eruptions sometimes make the national news.
Most of us also know that an entire U.S. state (Hawaii) was created by a series of volcanic eruptions.
But guess what? Earth isn't the only planet in the solar system that has volcanoes on it.
Of course it's only natural to believe that the best of everything is right here on planet Earth, but when it comes to volcanoes we have to look elsewhere to find the true superlatives.
Volcanic activity has been present on several other planets and moons in the past, and Jupiter's moon Io is currently the most volcanically active body in the entire solar system.
If you wanted to see the largest volcano ever discovered you'd have to travel to our neighboring planet Mars.
Olympus Mons is a massive Martian mountain that was formed from a long-dormant volcano.
To put the mind-blowing size of Olympus Mons in perspective, its base covers about the same land area as the U.S. state of Arizona – and it stands a whopping 16 miles tall!
Compare that to the relatively low 6.3 mile height of Earth's tallest volcano (Mauna Loa in Hawaii) and you'll understand just how tall Olympus Mons really is.
Most of Mauna Loa lies below surface of the Pacific Ocean so we don't get the full appreciation of how tall it really is, but the entirety of Olympus Mons is right out in the open for all to see (well, if we were on Mars of course).
And if you're wondering how Olympus Mons compares to Mount Everest (the highest mountain on Earth), Everest is only one-third as tall!
Bottom line: Our Earth has plenty of volcanic activity going on as we speak, but we have a ways to go to match what's taken (and is taking) place elsewhere in the solar system.
Want to see what an actual volcanic eruption looks like? Check out this short, but fascinating video:
Note: As always, you can watch the video at full screen by clicking the "square" icon in the lower right-hand corner of the video.