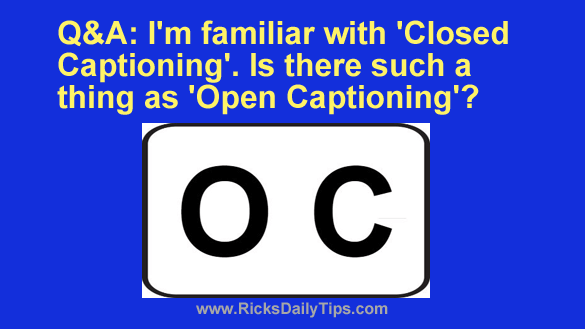 Question from Lisa:  I was eating dinner at a restaurant the other day and they were showing a ball game on a wall-mounted TV.
The game was being broadcast with Closed Captioning on.
That got me to to wondering if there's such a thing as "Open Captioning". Is there? 
Rick's answer: That's a great question, Lisa. And the answer is yes, there is indeed something called "Open Captioning".
I found out while researching this topic that Open Captioning and Closed Captioning are very much alike, with these key differences:
1 – The text you see on the screen when you watch a program with Open Captioning is actually embedded in the video track itself, and it cannot be turned off.
2 – The text you see in a program with Closed Captioning is actually contained on a separate track that's synchronized to the audio on the screen. Therefore, Closed Captioning can be turned off if it isn't needed.
In other words, while there are major technical differences between the two captioning methods, from the viewer's standpoint they are very much the same.
In both cases the words spoken in a program are displayed on the screen as text.
Some countries and localities have laws in place mandating the usage of open and/or closed captioning in theaters and on recorded videos, and those laws tend to vary quite a bit.
Some locales only require the addition of closed captioning, leaving the decision whether to use it or turn it off up to the viewer.
Other locales require that all captioning be open with the captions always displayed on the screen.
Why they would insist on using Open Captioning instead of Closed Captioning is beyond me, but I guess that's why I'm not a politician.
Bottom line: Open Captioning does indeed exist, and from the viewer's perspective it works very much like Closed Captioning. You just don't have the ability to turn Open Captioning off.
Thanks for a great question, Lisa!
And by the way, I also need to thank the producers of the following video for providing the bulk of the background info for my answer: