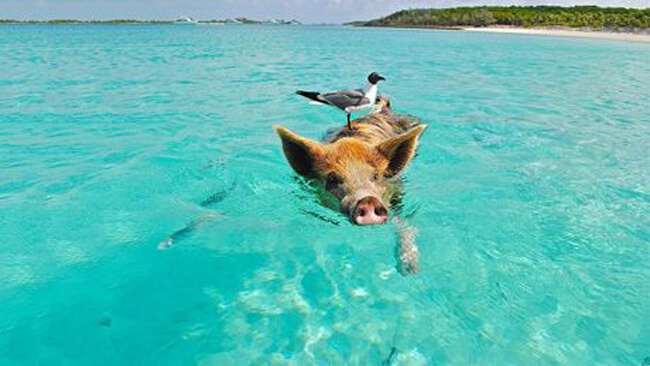 Do you enjoy visiting the Bahamas? Do you love pigs?
If the answer to both of those questions is yes, you would absolutely love Pig Beach!
Pig Beach is located on Big Major Cay, a small but frequently visited island in the Exuma district of the Bahamas.
And why do all those visitors come to Big Major Cay? To visit the swimming pigs, of course!
The pigs aren't native to the island, and no one knows for sure where they came from, when they arrived or how they got there. But they've apparently been there for a LONG time!
Here are a couple of the most popular guesses about the pigs' origin according to the folks at Bahamas.com:
1 – They were left on the island by a group of sailors, who planned to come back and cook them at some point in the future.
2 – A ship hauling a load of pigs wrecked nearby and some of the pigs swam to the island to keep from drowning.
Of course your guess is probably as good as either of those two, but number two sounds fairly plausible to me.
Anyway, now that you know about Pig Island you can get busy planning your visit during your next Bahamas vacation!
Want to see the swimming pigs in action? Check out the short video below!
Note: As always, you can watch the video at full screen by clicking the "square" icon in the lower right-hand corner of the video.