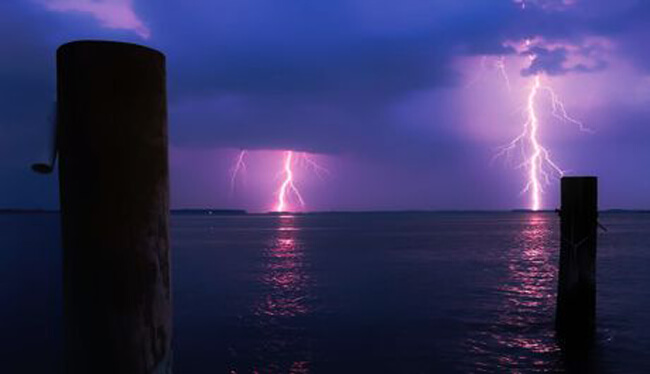 Chances are you've been warned about the danger of using electrical appliances near a bathtub or swimming when a thunderstorm is in the area.
Well, there's a good reason for that warning…
If an appliance or a lightning bolt were to come into contact with water you could be easily be electrocuted if you happen to be in contact with the water when the electrical current strikes it.
But what if I told you the water involved in such an electrocution isn't really what facilitated the deadly shock?
As explained by the folks at the U.S. Geological Survey, pure water is actually a perfect electrical insulator, not a conductor. And as you probably know, electrical insulators aren't capable of conducting electricity.
But if that's the case (and it is), why do people get electrocuted when they're in water and an electrical source comes into contact with that water?
The fact is, it's actually the impurities contained in water that are the true conductors, and it's those impurities that cause so many people to get electrocuted every year!
Unfortunately, pure water is extremely rare on planet earth. River water, sea water, water in puddles on the ground and even rain water are all filled with impurities that conduct electricity.
And in case you're wondering, the water that comes out of your kitchen and bathroom faucets is a long way from being pure (i.e. having no dissolved particles of contaminants).
That impure water flowing out of your tap is what makes it dangerous to use electrical appliances near your sink or bathtub.
By the way, salt is one of the most conductive impurities you're likely to find in any water you encounter in nature.
That's why it's more dangerous to swim in the ocean during a thunderstorm than in a fresh water lake or river (but it's extremely unwise to do either one)!
Bottom line: We must always assume that any water we encounter in nature is going to be dangerous if a thunderstorm passes overhead or there are electrical appliances close by because that water is sure to be filled with conductive particles.
Want to see the difference between the conductivity of pure water and salt water with your own eyes? Watch this short video…
Note: As always, you can watch the video at full screen by clicking the "square" icon in the lower right-hand corner of the video.
Pretty cool, right? Now you know the truth about water and electricity!