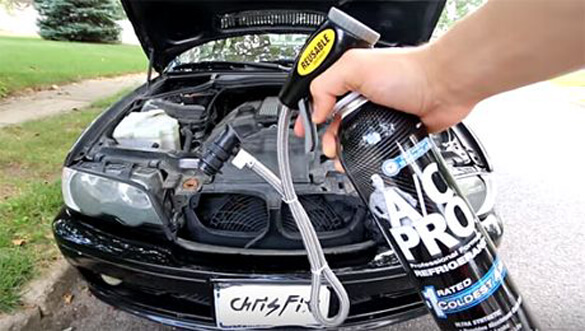 Note: The links in this post are affiliate links.
Well, summer is just around the corner, and as usual it'll probably be a scorcher here in my neck of the woods.
If it gets hot where you live too you probably feel blessed to have an air conditioner (AC) in your car.
However, if your car's AC isn't really cooling as it should you're likely gonna be in for a long, miserable summer. 
But there's good news: You can probably get that poorly-performing AC system working again for about the cost of a really good pizza.
Most "hot" air conditioners fail to blow cool air because they're low on refrigerant.
Of course sometimes a car's AC compressor will stop working, and that's indeed a very expensive repair.
But most of the time it's going to be a low refrigerant issue, and those are usually very easy and inexpensive to fix with nothing more than a simple AC Refrigerant Recharge Kit.
All you have to do is connect the hose from the recharge kit to the AC system's Low Pressure Port and follow the instructions on the can.
If a low refrigerant level is indeed the problem your car's air conditioner will be blowing cool air again in no time!
If you've never recharged a car's AC refrigerant before you'll be shocked at just how easy it is.
The short video below will walk you through the entire process of checking the compressor to make sure it's working correctly and then selecting the right kind of AC refrigerant recharge kit and using it to recharge your car's AC refrigerant.
Note: As always, you can watch the video at full screen by clicking the "square" icon in the lower-right corner of the video after it begins playing.