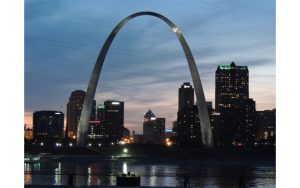 The United States is home to some of the world's most famous monuments, including the iconic Gateway Arch in St. Louis, Missouri.
This beautiful "Gateway to the West" was designed to be a symbol of Thomas Jefferson's vision of – and dedication to – the westward expansion of America.
Construction began on the Arch in 1963 and it was completed in just two short years. 
Although you'd never know it from most of the photos depicting the Gateway Arch, it isn't a solid structure.
It's actually a massive arched steel tube with an observation deck at the very top and a multi-car tram that hauls visitors up to the observation deck and then back down to the bottom.
The video featured below shows what it's like to take a ride on that tram and enjoy the views of St. Louis and the surrounding area from the top of the Arch.
Watch, and enjoy…
Note: You can watch this video at full screen by clicking the little "square" icon in the lower-right corner of the video after it begins playing.