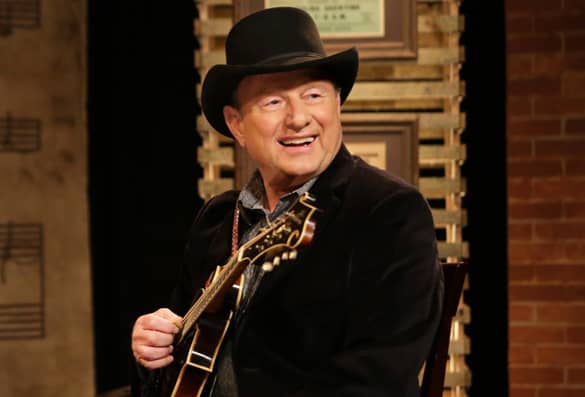 Ronnie Reno has delighted Bluegrass and Country Music fans as a performer, songwriter and television host for six decades.
In addition to recording and touring with his own band, he also performed alongside some of the biggest names in the music world – the Louvin Brothers, Merle Haggard, The Osborne Brothers, Johnny Cash, Willie Nelson, Johnny Paycheck…the list just goes on and on.
If you're a fan of traditional American music, it's a good bet that Ronnie played a major role in shaping your musical experience.
I recently had the opportunity to speak with Ronnie about his life and long career performing in not one, but two genres of American music.
Here are ten questions and answers with Ronnie Reno…
Q: Ronnie, you were just a child the first time you performed for a national audience, so you obviously started young. How old were you when you first starting learning to play the mandolin?
A: I first started when I was 10.
Q: Your dad Don Reno teamed up with Red Smiley to create one of Bluegrass' most successful acts of all time, and you joined their band while you were literally still a child.
What was it like growing up totally immersed in such a rich musical environment? It must have been quite the adventure.
A: Yes, I started singing with them on the Old Dominion Barn Dance in 1957.
I didn't know how to play an instrument so I started learning chords on the mandolin. I started chopping rhythm with the band so I could go out and play show dates with them.
I've been very fortunate to have been in the right places at the right time.
I've got to say that I was lucky enough to sing with Merle Haggard, The Osborne Brothers plus Reno and Smiley at the greatest times in their careers. It was a treat.
Q: Like most musicians who got their start in Bluegrass, you play multiple instruments, and you play them extremely well. Which instrument is your favorite?
A: The mandolin, I guess your first love is always the sweetest.
Q: Over the years you comfortably transitioned back and forth between Bluegrass and Country Music and found great success in both genres. If you were starting over and could only perform in one, would you choose Bluegrass or Country?
A: That's a hard one and it's like Sophia's Choice. Which child would you pick if you had two and could only choose one? I'm going to stay with both.
Q: In addition to your long solo career, you've also performed alongside some of the most successful singers and musicians the world has ever known.
Besides the obvious first choice (your dad), who among them was your greatest inspiration as an up-and-coming professional singer and musician?
A: Vassar Clements, Mac Magaha, Bobby Osborne, Roy Nichols as musicians and of course Merle Haggard as a singer.
Q: Most people know you as a performer, but you also found great success as a songwriter.
One song of yours that really caught my attention when it was released was Conway Twitty's hit "Boogie Grass Band". What's the story behind that song?
A: My Dad was a great songwriter and I got started with him.
I wrote for many years with the great Wayne Carson who penned songs like "The Letter", "You Were Always On My Mind", "Soul Deep", and 38 number ones for various Rock and Country artists.
I was also fortunate to write some with Hag and started my own publishing Company.
Wayne and I never had number ones together but wrote around 100 songs together and had number one's on our own.
When I was growing up I always was interested in all types of music plus my dad had played with Arthur Smith who had a great country band in Charlotte, North Carolina. I always wondered how the band would sound with the Bluegrass drive and the Country drums.
The idea for "Boogie Grass Band" came to me as I was driving up to Maryland one time and I was able to pitch it to Conway as we were working a lot of shows together with him. He heard it the same way I did. I had to teach him the Bill Monroe yodel on the end.
Many thanks to Conway for the success of that song!
Q: Over the course of 26 years you produced and hosted not one, but two very successful Bluegrass Music variety shows including "Reno's Old Time Music", which was consistently one of the top-rated shows on the RFD-TV network. What was your most memorable experience from those programs?
A: There were many great performances on the show but the one that comes to mind is the nomination of a Cable Ace award in 1993.
At that time the award was equal to a Grammy nomination and a little Bluegrass show was up against top shows with big budgets in Los Angeles, California. It was going against shows on HBO and I remember Bird Land won.
As we left the next morning on an early flight back to Nashville, we heard the earthquake had hit LA that morning right after we left. Wow, who wouldn't remember that?
Q: After an amazing 60 year career you finally decided to hang it up and retire last year. That had to be a major adjustment to your lifestyle. Do you ever entertain the thought of getting back into the business?
A: The road travel was really affecting me as I couldn't get the rest I needed to for all the rigors of moving a band around the United States. So I decided to stop the travel and concentrate on my family and health.
I had been lucky for many years and able to do a lot of things in the entertainment industry.
I stopped the touring but am still able to play with my production and publishing companies. In fact we have a new project called "Bluegrass Music TV".
The industry needs a new platform to showcase the great talent in our field of music and we hope fans and new fans will visit our Facebook and YouTube channels. It will also be the new home of "Reno's Old Time Music Festival".
Q: If you were somehow given the opportunity to start your life and career over again, what one thing would you do differently the second time around?
A: I'd pay more attention to the history of the music – learn more music theory and how we got where we are today.
Q: If you could sum up your life and career with one word or phrase, what would it be?
A: My timing was wonderful as I got to see, play and be a part of some of the greatest music every performed for all time.
Thanks so much for your time and generosity, Ronnie. Best of luck to you in your semi-retirement!
You can connect with Ronnie Reno on his Facebook page and at RonnieReno.com.
To finish up, here are a couple of fantastic short videos for you to check out…
Note: As always, you can watch the videos at full screen by clicking the "square" icon that will pop up in the lower-right corner of each video after it begins playing.
First, here's Ronnie and The Reno Brothers singing "Kentucky Gold":
And here's Ronnie and The Reno Tradition pickin' the Bluegrass classic "Turkey in the Straw":