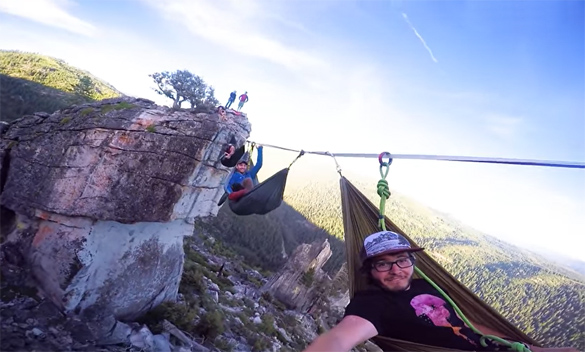 Looking for a nice relaxing way to spend your summer vacation?
Well, you can do what these folks are doing and enjoy a few days (and nights) "hanging out" in a nice, comfy hammock.
The thing is, these hammocks aren't suspended between two trees. They're actually suspended between two extremely high cliffs! 
Back in my younger, more adventurous days I might have entertained the thought of doing something like this. But today? Not a chance.
I'll take a hammock that's suspended between two palm trees on some nice, quiet beach, thank you.
How about you? Would something like this be your ideal way to spend a little "down time"?
Here's a little video taste of what it's like to go "Slacklining". Watch, and enjoy!
Note: You can watch this video at full screen by clicking the little "square" icon in the lower-right corner of the video after it begins playing.
So there you go. Have fun!