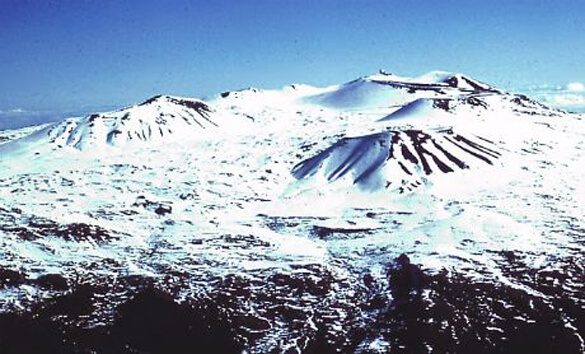 When you think of Hawaii you probably imagine vacationing on a gorgeous sandy beach with balmy tropical breezes blowing through your hair.
And truth be told, you'll definitely find that sublime experience waiting for you if you ever get a chance to visit America's premier island paradise.
But here's a little tidbit you might not know about Hawaii…
It snows there. And it snows there every winter.
Of course you don't have to worry about a winter storm wreaking havoc with your Hawaiian beach vacation. It won't.
Although snow falls in Hawaii every winter, it very seldom falls at elevations lower than 9,000 feet.
That means unless you're on or near the peak of Mauna Loa, Mauna Kea or Haleakala you won't be needing a snowsuit.
Even on the "coldest" winter days, the temperature on Hawaii's beaches and in her towns and cities will almost certainly be above 70 degrees Fahrenheit.
In fact, according to GoHawaii.com the average daytime winter temperature is an almost perfect 78!
And in case you're wondering, the water temperature near the beaches in the winter averages a very warm 74 degrees.
I guess it all boils down to this…
Hawaii is the only U.S. State in which you can swim in the warm waters of the south Pacific and just a few minutes later be snowboarding down a slope covered with natural powder.
Want proof? Check out this short video:
Pretty cool, huh? (No pun intended, I promise!)
Image credit: U.S. Geological Survey