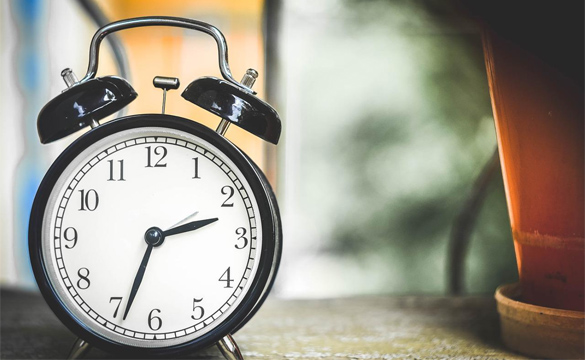 "Better three hours too soon than a minute too late."
     -–William Shakespeare
Those who know me well know how badly I hate being late – for anything.
I guess it all started with my dad…
Although he was an avid reader, dad was no fan of the Bard. But he did take that one famous line from "The Merry Wives of Windsor" and adapt it for his own use.
Dad's version: 
"It's better to be 30 minutes early than one minute late."
I heard him recite that over and over during his long lifetime. And he didn't just say it, he lived it.
In fact, I can't recall my dad ever being late for anything unless something totally out of his control came from out of the blue and forced him to be late.
I guess that rubbed off on me because I eventually appropriated dad's saying as my own.
And yes, I too detest even the thought of being late for any kind of appointment, meeting or event.
For sure, that turned out to be a good thing once I reported for military duty, for obvious reasons.
And I'm still the same way today.
My dad taught me early in life that if I made a habit of being late that would mean I valued my own time more than I value the time of others. It's a simple matter of respect.
I was also taught that my time is no more valuable to me (or to the world) than someone else's time is to them (and the world).
Therefore, if I'm going to waste time it should always be my own instead of someone else's.
Now all of the above being said, I don't harbor any ill feelings towards folks who are rarely on time for things. Truth be told, some of the people I love and respect the most will likely end up being late for their own funerals.
I realize that not everyone places the same level of importance on punctuality that I do, and that's fine. We're all individuals with our own opinions and thoughts about matters of this type.
After all, God intended for each and every one of us to be unique in our own way.
That means if you show up for something we're both planning to attend a few minutes late it won't change the way I feel about you in the least.
But if at all possible I'll be there on time. And I'll be happy to see you when you get there.
What about you? Are you someone who is almost always on time, almost always late or some mixture of the two?
If you tend to be habitually late, is that something you'd like to change? If not, no biggie. But if it is, here's a short video that just might help.
Note: You can watch this video at full screen by clicking the little "square" icon in the lower-right corner of the video after it begins playing.