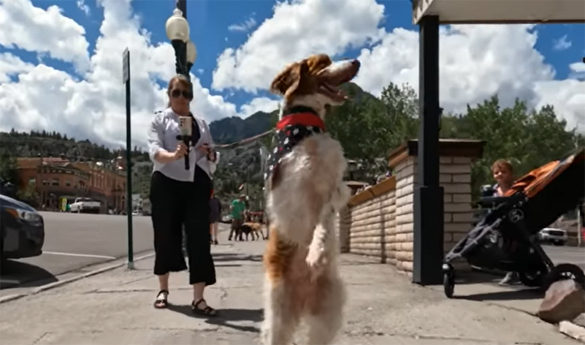 They say "You can't teach an old dog new tricks", and that could well be true in most cases.
However, some dogs don't need to be taught because they're smart enough to figure things out on their own.
Case in point: Meet Dexter, a superbly talented Brittany spaniel from Colorado… 
Like countless other dogs, Dexter had the unfortunate experience of getting hit by a passing car.
Luckily, he survived the ordeal, but with grievous wounds that left him with one front leg completely missing and the other one completely immobile.
As you can imagine, without the use of two functioning front legs, Dexter found himself unable to walk on all fours like other dogs.
But never one to just give up, this amazing canine came up with a solution: He would use his two good hind legs to walk upright, just like a human.
The short video below tells more of Dexter's story and shows him walking hither and yon – and even starring in a parade!
Watch, and enjoy…
Note: You can watch this video at full screen by clicking the little "square" icon in the lower-right corner of the video after it begins playing.