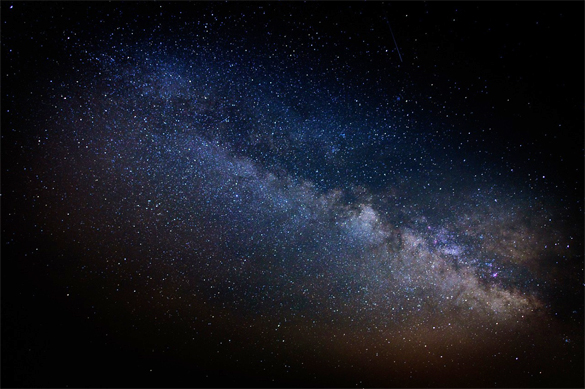 Have you ever had the pleasure of looking up at the night sky on a pitch-dark night, in a location that was far, far away from the nearest town or city lights?
If so, you were probably amazed at all the stars, nebulae and other magical objects that filled the unfiltered night sky.
And of course you were likely blessed to witness the breathtaking spectacle of our Milky Way galaxy as it dominated the vista overhead. 
If you're one of the millions who have never ventured away from the lights of your city to spend some time in the open country, you really owe it to yourself to do that whenever you get the chance. Trust me, you'll be richly rewarded.
Until then you can enjoy the wonders of the night sky by watching some of the fantastic timelapse videos you'll find on YouTube. Just type in "timelapse night sky" or something similar and you'll find a bunch to choose from.
If you're looking for a starting point I recommend the timelapse video I've shared below.
This video was created by combining a mind-blowing 1/2 million still images that were captured over a two year period into a single one-hour movie. Think of it like a cartoon on steroids.
Watch, and enjoy…
Note: You can watch this video at full screen by clicking the little "square" icon in the lower-right corner of the video after it begins playing.
Want to contact me? Sign up for my free 
Rick's Tech Tips Newsletter
 and just reply to the welcome email you'll receive.