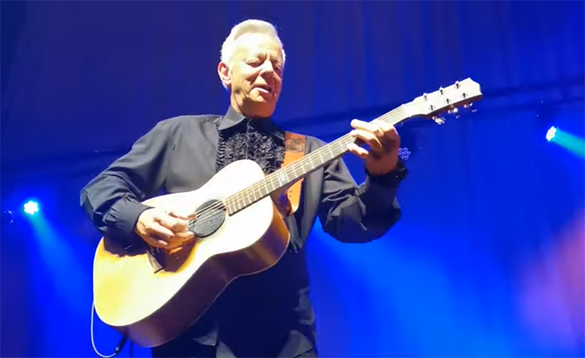 Tommy Emmanuel is probably the best guitar player that most folks have never heard of.
He started playing guitar in his native Australia as a youngster after hearing the late, great Chet Atkins work his instrumental magic over the radio, and he has never looked back since.
What sets Tommy apart from the world's other great musicians are his obviously deep love of performing and his almost unique ability to make a single acoustic guitar sound like an entire band. 
If you've never had the pleasure of watching and hearing (notice I said watching first) Tommy Emmanuel perform, you're in for a real treat.
The short video below features Tommy working his own amazing magic with his guitar.
This short, but awesome Beatles medley was recorded during one of the numerous concerts he performs each and every year, in various cities around the world.
While you're watching this, keep one thing in mind…
Tommy can't read music. He never really saw the need to learn how. He plays everything "by ear".
Now, with all of the above said, I invite you to watch and enjoy…
Note: You can watch this video at full screen by clicking the little "square" icon in the lower-right corner of the video after it begins playing.
I hope you enjoyed that as much as I did. If so, please let me know. If not, let me know that as well. I love getting feedback from my readers, both positive and negative.
Want to contact me? Sign up for my free Rick's Tech Tips Newsletter and just reply to the welcome email you'll receive.