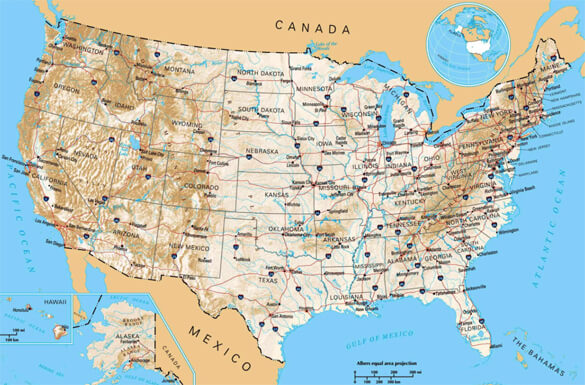 The relationship between geography and distance can often be a little confusing at first glance.
Actual distances between two locations on the ground are often far different on a map than they appear to be in one's head.
The U.S. state of Tennessee is a perfect example…
As the crow flies (aka straight-line distance) it's actually closer from the small northeastern Tennessee community of Trade to Windsor, Ontario, Canada than it is to the city of Memphis which lies at the other end the very same southern state.
Want proof? Well, here you go…
According to GlobeFeed's Distance Calculator, the straight-line distance between Trade and Memphis is 470.85 miles.
Now compare that distance to the straight-line distance between Trade and Windsor which is only 417.49 miles.
Yep, that's right – it's about 53 miles farther from Trade, Tennessee to Memphis than it is to a city in another country!
The reason of course is simple geography…
Compared to the other states that lie east of the Mississippi River, Tennessee is quite wide. And Windsor, Ontario is located just south of the American city of Detroit, Michigan.
That's why Trade, Tennessee and Memphis (which lie on opposite ends of that relatively wide southern state) are farther apart than Trade and Windsor!
Ad finally, to finish up, here's a fascinating short video that REALLY puts distance into its proper perspective…
Note: You can watch the video at full screen by clicking the little "square" icon after it pops up in the bottom-right corner of the video.