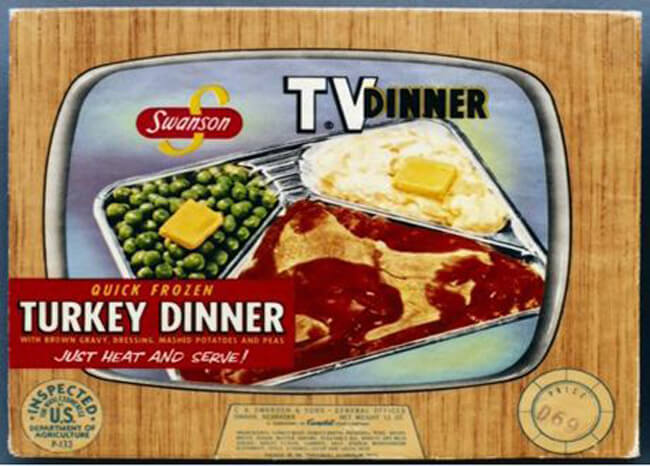 Chances are you're familiar with the frozen meals sold in grocery stores.
You know the ones I'm talking about. They usually come in a tray that includes some sort of meat entrée (Salisbury steak, anyone?) along with a couple of vegetables and/or a dessert item.
When I was growing up those frozen meals were referred to as "TV dinners".
Busy moms seemed to love them but most everyone else preferred enjoying a home-cooked meal.
Well, you rarely hear anyone call those frozen meals "TV dinners" anymore, but they're more popular (and more tasty) than ever these days.
Chances are, you enjoy eating one yourself on occasion.
If so, you can thank C.A. Swanson & Sons (known today simply as Swanson Foods) for coming up with the idea of frozen "TV dinners" way back in 1953.
But guess what? The first TV dinners weren't the result of a million dollar marketing study. They were actually the result of a colossal mistake.
What happened was the folks in charge of ordering Thanksgiving turkeys to sell that year made a massive miscalculation about the number of turkeys consumers would buy.
After the big day had come and gone Swanson found themselves with 260 tons of frozen turkeys sitting in ten refrigerated railroad cars.
After brainstorming potential ways to use all those turkeys and prevent having to throw them out, one of the company's salesmen came up with the idea to package a small portion of turkey meat along with a couple of vegetables on an aluminum tray, then freeze it and sell it as a frozen meal.
Swanson named their newly-minted frozen meals "TV dinners" because watching TV after supper was quickly becoming a favorite evening pastime during that era.
All a mom (who was almost always the family cook back then) had to do was remove the trays containing the frozen dinners from their boxes and heat them up, then serve them to the rest of the family members to enjoy while they watched TV.
At first Swanson wasn't sure their TV dinners would sell. But sell they did, in huge numbers – 10 million in just the first full year after they hit the store shelves!
Swanson eventually started selling other frozen meals in addition to turkey, and they too became huge sellers.
In 1962 they decided to remove the words "TV Dinner" from their packaging, but by then that name had become so ingrained in the minds of consumers that millions of them kept referring to those frozen meals as TV dinners for years to come.
Today they're simply referred to as "frozen dinners", but in the minds of many folks my age and older the name "TV dinner" will always come to mind every time we see them.
I found a short, but very interesting video that further discusses the origin of Swanson's famous TV dinners. If you found this post intriguing I invite you to check out the video as well.
Note: As always, you can watch the video at full screen by clicking the "square" icon in the lower-right corner of the video after it begins playing.