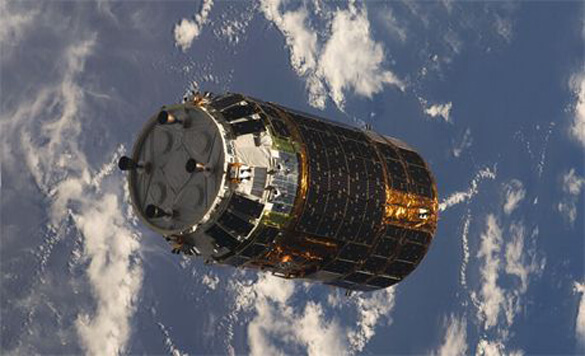 Did you know there's a "Spacecraft Cemetery" on our planet?
A lonely place that contains numerous 'dead' spacecraft that have fallen back to Earth?
Well, there is, but unfortunately the chances of you or me ever getting to visit it are virtually nil. 
This "Spacecraft Cemetery" is located on the deep floor of our planet's largest ocean, more or less below a place known as SPOUA (which is short for South Pacific Ocean Uninhabited Area).
At SPOUA's center is a spot known as Point Nemo.
Of course there is no actual body of land associated with Point Nemo.
This super-remote location is actually the point on the surface of an ocean that's farthest from the nearest body of dry land.
Put another way, if you wanted to get as far away from dry land as possible without leaving the planet you'd head straight for Point Nemo!
Which brings us to the reason Point Nemo (and the associated SPOUA region) was selected as the location of the spacecraft cemetery…
When a spacecraft reaches the end of its useful life and needs to be returned to earth, it's extremely important to reduce the odds of its remaining bits and pieces falling onto building, cars, ships and people.
Having them crash into the ocean as close to Point Nemo as possible reduces that risk about as much as it can possibly be reduced.
After all, there are no buildings, cars or people in the vicinity of Point Nemo for the plummeting craft to land on. The only thing you'd find there if you were to visit is open water much farther than the eye can see.
What's more, there's virtually no shipping activity going on in that area since it's so far away from land.
If a stray vessel does plan to be in that area they'll receive ample warning to stay away from it until after the defunct spacecraft has plashed down.
To finish up, here's a fascinating short video discussing Point Nemo, SPOUA and the Spacecraft Cemetery. Check it out!
Note: As always, you can watch the video at full screen by clicking the "square" icon in the lower-right corner of the video after it begins playing.