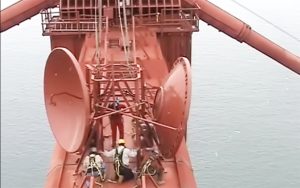 Have you ever looked at a massive structure and simply marveled at the hard work and steely nerves that must have been required to build it.
San Francisco's iconic Golden Gate Bridge is one such structure.
However, the short video I'm featuring today isn't about the construction of the bridge itself. 
It's actually about the (not so simple) replacement of a huge and unwieldy microwave passive repeater assembly that rests on top of it.
You'll see the incredibly precise work of a chopper pilot as he lifts and hauls away the old dish assembly and then carefully delivers and maneuvers the new one into position on top of the bridge – and holds it there until a small crew of iron workers can properly secure it.
And speaking of those iron workers, the steel in their nerves must have been just as impressive as the steel in the bridge they're working atop.
Oh, and the guy walking on the massive cable over on the right and recording video from that angle? I was quite impressed by the tensile strength of his nerves as well.
The technical quality of the video isn't the best due to the conditions under which it was shot, but I believe it's well worth the few minutes it'll take to watch it.
Enjoy!
Note: You can watch this video at full screen by clicking the little "square" icon in the lower-right corner of the video after it begins playing.