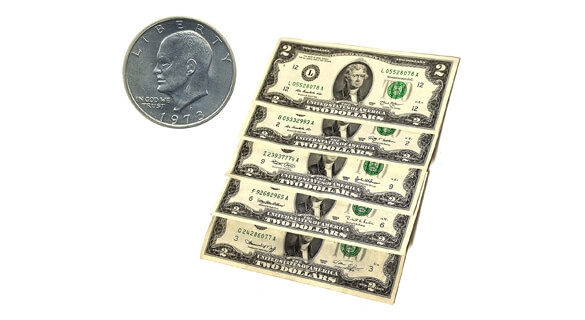 I'm sure you're aware that we're currently living through a period of steep inflation, but did you know there people voluntarily paying prices that greatly exceed the items' actual values?
One of my favorite examples is this incredible "deal" that I ran across while shopping on Amazon.
Yes, you read that correctly. You can actually purchase $11 worth of genuine American money for $35 (give or take a buck or two).
Of course you do get the satisfaction of knowing you'll be carrying currency that very few people carry on a daily basis, so there's at least a little added value in this deal.
But kidding aside, you can get all the $2 bills you want at your local bank and they'll cost you a grand total of…wait for it…$2 each!
And if you wait long enough you'll probably come into possession of a nifty silver dollar at some point.
Now don't get me wrong, I love shopping at Amazon for the reasons stated in this post. The "deal" featured here is actually from a third-party seller, not Amazon itself.
I said all of the above to say this: Not all the "deals" you see on the Internet are good deals. Keep that in mind as you shop online.
And as they always say, "Buyer Beware!"
On a slightly different note, check out this short video to see what happened when an 8th grader tried to pay for her school lunch with a genuine $2 bill!
Note: As always, you can watch the video at full screen by clicking the "square" icon in the lower-right corner of the video after it begins playing.