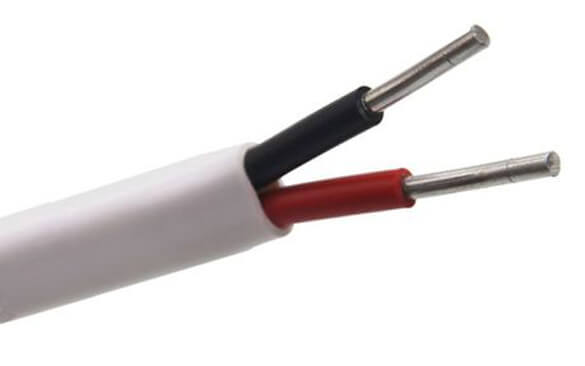 Question from Carla:  My husband just bought a roll of electrical wire at Lowes for a remodeling job we're doing on our home, and it cost an arm and a leg.
That got me to wondering why house wiring is made out of copper instead of aluminum even though aluminum would probably be a lot cheaper than copper? 
It seems to me that switching to aluminum would save people a ton of money when it came time to build a new house or remodel an old one.
Rick's answer: That's a great question, Carla. And there's a very simple answer: Safety.
You're right that aluminum costs a lot less than copper. The problem is aluminum isn't all that well suited for use in the wires used to wire up houses and other types of structures.
While aluminum conducts electricity just fine, it tends to heat up and expand while electrical current is flowing through it.
When the current stops flowing the wires shrink back to their original size.
Over time this cycle of expansion and shrinkage causes the wires at the connections to loosen up and become brittle and covered with corrosion.
Unfortunately, those conditions introduce resistance to current flow into the circuits and that causes the wires to overheat.
We know this is a huge problem because during the period between 1965 and 1972 many homes were indeed wired up with aluminum wires.
And just a few years later those aluminum-wired homes started burning down at an alarming rate!
According to this document from the U.S. Consumer Products Safety Commission, homes wired with aluminum wiring are 55 times more likely to be damaged or destroyed by an electrical fire than homes that are wired with copper!
Which brings me to this point…
If you have an older home that was built between the years of 1965 and 1972 it might be a good idea to have the wiring inspected to ensure that the wiring is made of copper instead of aluminum.
If you find that your home is indeed wired with aluminum there are ways to reduce the danger of a house fire by a wide margin. Just be aware that the repairs won't be cheap.
Bottom line: Using aluminum wiring instead of copper would indeed reduce the cost of building or remodeling a home but the greatly increased danger of a house fire pretty much eliminates it as a viable alternative.
To finish up, here's a short video that shows aluminum wires connected to the circuit breakers in a sub-panel. Check it out.
Note: As always, you can watch the video at full screen by clicking the "square" icon in the lower-right corner of the video after it begins playing.